Article Options
Mark as New

Mark as Read

Bookmark

Subscribe

Email to a Friend
Mark as New

Bookmark

Subscribe

Email to a Friend
What are the best practices recommended for ClearPass - Active Directory authentication setup?
esupport
MVP
Q:
Recommended configurations for ClearPass for active directory user authentication setups
A:
Please find below recommended best practices for ClearPass configurations:
Backup servers for authentication source:
It is recommended to have one or more backup servers added in authentication source. This will help ClearPass to switch to backup server in case of primary server failure to continue performing user lookups in AD for authentication/authorization.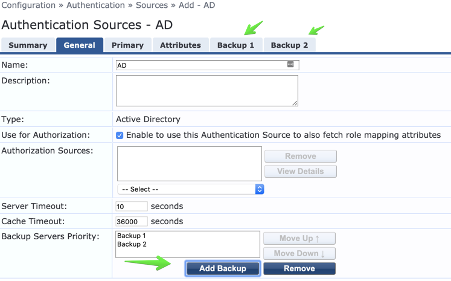 Adding "Password Servers" for EAP-PEAP authentication:
It is recommended to map one or more password servers for each domain ClearPass is joined to. This will ensure that ClearPass can continue performing NTLM authentication for EAP-PEAP users when primary AD (Where ClearPass is joined to) fails.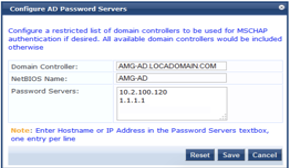 Hostname/FQDN or IP address of AD servers are accepted in password server list.
This would ensure less load on DNS servers as all successful DNS resolution details will be cached by ClearPass until TTL expires for that record.
This would greatly improve performance of AD where single AD node is being used to perform authentication as well as DNS lookups.
This would be more effective for EAP-PEAP/MSCHAPv2 authentication scenarios. During EAP-PEAP/MSCHAPv2 authentication process, ClearPass rely on DNS responses to locate domain controller and resources.

You could navigate to Policy manager>Administration>Server Manager>Server configuration>click on server>Service Parameters>Radius server>AD Errors:

This should set to restart domain service. This setting will ensure automatic restart of domain service in ClearPass when number of errors exceeds the set value in given window size.
List of errors for which domain service would not restart automatically:
0xC000006D - STATUS_LOGON_FAILURE
0xC000006E - STATUS_ACCOUNT_RESTRICTION
0xC000006F - STATUS_INVALID_LOGON_HOURS
0xC0000071 - STATUS_PASSWORD_EXPIRED
0xC0000072 - STATUS_ACCOUNT_DISABLED
0xC0000064 - STATUS_NO_SUCH_USER
0xC000006E - STATUS_ACCOUNT_RESTRICTION
0xC000006C - STATUS_PASSWORD_RESTRICTION
0xC000006A - STATUS_WRONG_PASSWORD
0xC0000193 - STATUS_ACCOUNT_EXPIRED
0xC000006F - STATUS_INVALID_LOGON_HOURS
0xC0000234 - STATUS_ACCOUNT_LOCKED_OUT
0xC0000224 - STATUS_PASSWORD_MUST_CHANGE