Article Options
Mark as New

Mark as Read

Bookmark

Subscribe

Email to a Friend
Mark as New

Bookmark

Subscribe

Email to a Friend
Change in behavior for applying configuration in 8.0
esupport
MVP
Q:
Check points before applying changes on the Controller running Aruba OS 8.0.
A:
Aruba OS 8.0 provides various check points before applying configuration changes to the Controller(s). WLAN administrator has to go through the below process before pushing out any changes to the Mobility Device(s) in the cluster.
Validating configuration changes
Submitting configuration changes
Canceling configuration changes
Discarding pending changes
Deploying Pending Changes commands to the managed nodes, and giving feedback on results (success or failure).
When making changes to any parameter in any profile, the page enters the edit mode and clicking outside the edit mode is ignored. As you can see below, when making changes to the hostname and other parameters in that page, outside view is grayed out. If user tries to navigate outside that view, Controller would pop-up a dialog window within the same view promoting for the feedback.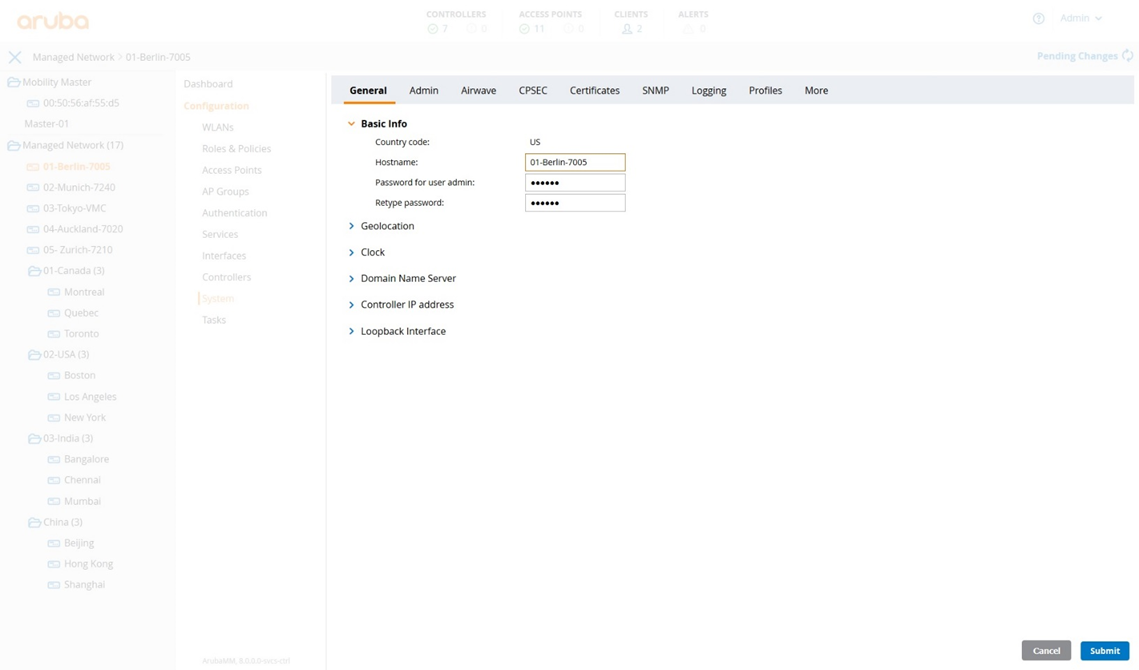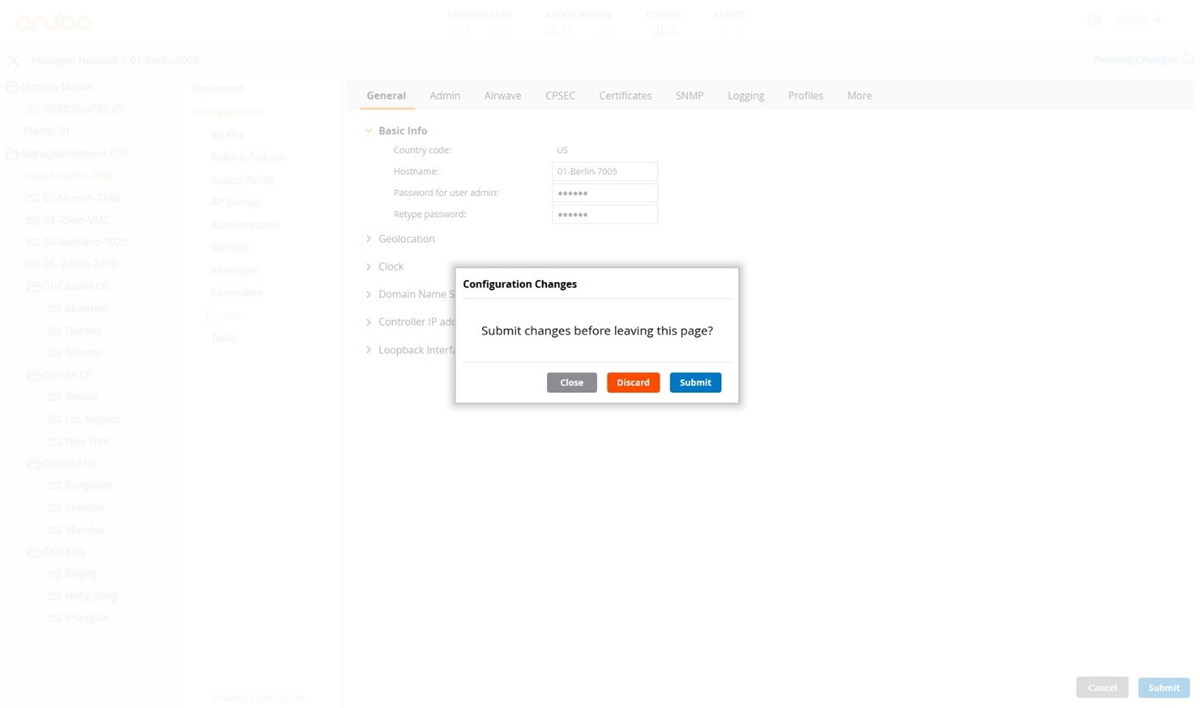 Once after submitting the changes on the respective profile, as highlighted below, it would start showing as pending changes. Further Clicking on pending changes, window would pop-up displaying all the Mobility Devices(MD) in a cluster. We can choose to which MD the changes can be applied from the available list.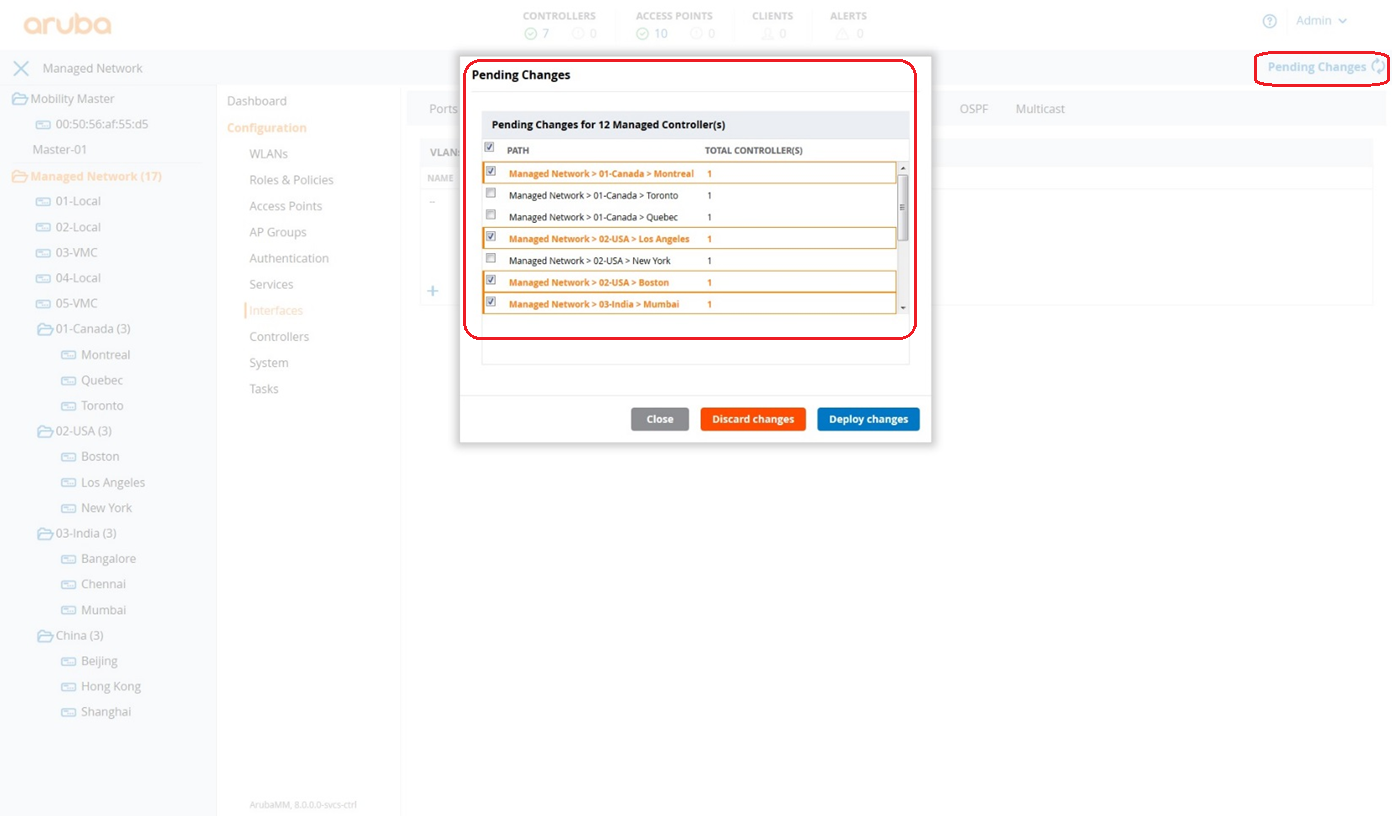 As needed, administrator can push the configuration changes to all the MDs or specific MD or few MDs in a cluster. Once after the configuration is applied, Mobility Master will provide feedback on results. As you can see below, all configurations were successfully applied to different MDs. In case of failure when applying configuration to some of the MDs, you would see their status in red and reason for failure under the index "Message". In such cases, please logon to respective MD and ensure the Local Controller is still part of the cluster and it can reachable the Mobility Master. If everything is found to be intact, please reach out to TAC to figure out the reason for configuration failure.