Article Options
Mark as New

Mark as Read

Bookmark

Subscribe

Email to a Friend
Mark as New

Bookmark

Subscribe

Email to a Friend
FQDN based site to site IPSEC tunnels
esupport
MVP Expert
Requirement:
Customer needs a scalable solution to deploy Site-to-Site tunnels using branch office controller solution, the prior code implementation only support configuration of ip address as remote end point and mandates use of ip address as src-net.
Solution:
Starting from 6.4.4.0 we have the flexibility of configuring FQDN as peer-ip. This provides the with the ease of configuring same FQDN across different branches which might resolve to different IP addresses locally based on local DNS setting
Configuring src-net within crypto map as vlan. In BOC solution, ip addresses are carved out when branch talks to the master. As a result, ip addresses are not known beforehand.
This feature allows them to configure vlan as source network. When the configuration is pushed to the branch, the ip address range carved out for that vlan in that branch will be used during IKE negotiation. This provides them the flexibility of pushing the same configuration of source network across all branches which would negotiate different source networks based on ip pools carved out for that vlan in that branch.
Support for factory certs for Site-to-Site will allows customer to use TPM certs and reduce complication of certificate configuration process.

Configuration:
Config CLI:
ip domain-name france.inditex.com
ip name-server 10.15.92.51
crypto-local ipsec-map toc3 100
version v2
set ikev2-policy 10006
peer-ip payment
vlan 1
src-net vlan 100
dst-net 130.0.0.0 255.255.255.0
set transform-set "default-transform"
pre-connect enable
factory-cert-auth enable
trusted enable
uplink-failover disable
ip-compression disable
force-natt disable
!
UI: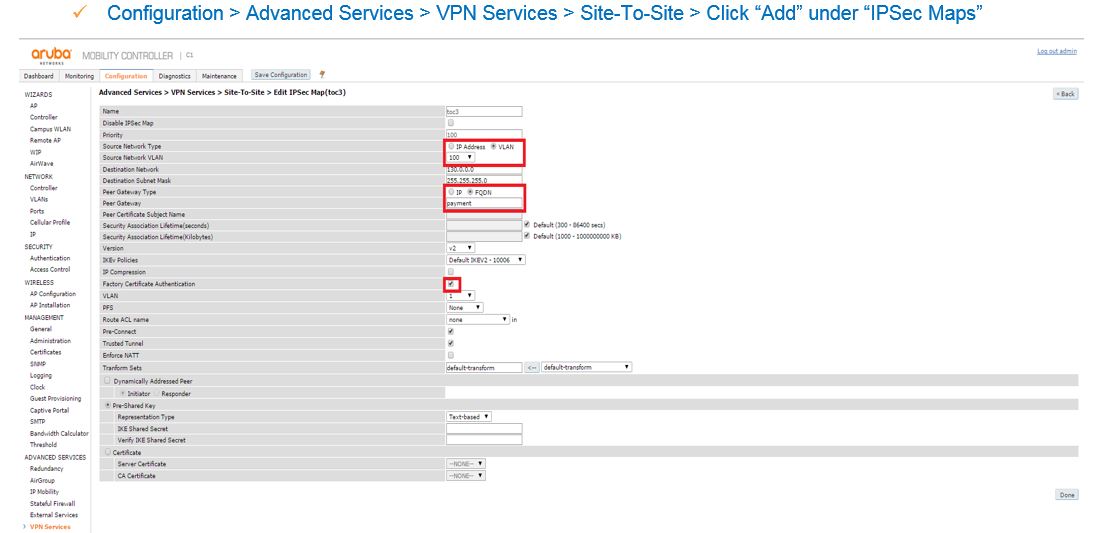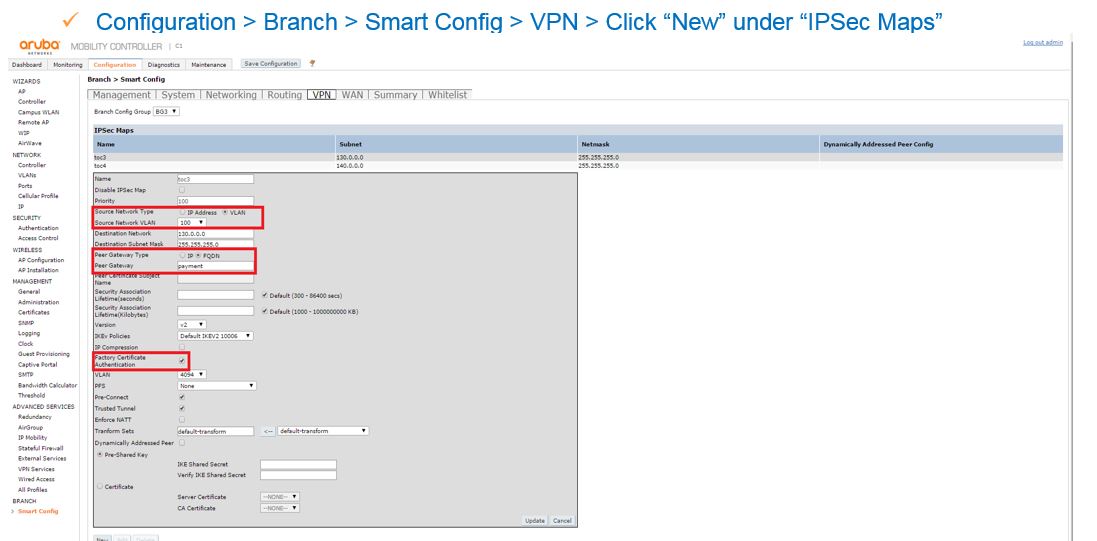 Verification
(C1) #show crypto isakmp sa
ISAKMP SA Active Session Information
------------------------------------
Initiator IP Responder IP Flags Start Time Private IP
------------ ------------ ----- --------------- ----------
10.15.33.1 10.15.33.3 i-v2-c Jul 16 14:30:25 -
Flags: i = Initiator; r = Responder
m = Main Mode; a = Agressive Mode; v2 = IKEv2
p = Pre-shared key; c = Certificate/RSA Signature; e = ECDSA Signature
x = XAuth Enabled; y = Mode-Config Enabled; E = EAP Enabled
3 = 3rd party AP; C = Campus AP; R = RAP; Ru = Custom Certificate RAP; I = IAP
V = VIA; S = VIA over TCP
Total ISAKMP SAs: 1
(C1) #show crypto ipsec sa
IPSEC SA (V2) Active Session Information
-----------------------------------
Initiator IP Responder IP SPI(IN/OUT) Flags Start Time Inner IP
------------ ------------ ---------------- ----- --------------- --------
10.15.33.1 10.15.33.3 4b279b00/745c4100 T2 Jul 16 14:26:22 -
Flags: T = Tunnel Mode; E = Transport Mode; U = UDP Encap
L = L2TP Tunnel; N = Nortel Client; C = Client; 2 = IKEv2
Total IPSEC SAs: 1
(C1) #show crypto-local ipsec-map | begin toc3
Crypto Map Template"toc3" 100
IKE Version: 2
IKEv2 Policy: DEFAULT
Security association lifetime seconds : [300 -86400]
Security association lifetime kilobytes: N/A
PFS (Y/N): N
Transform sets={ default-transform }
Peer gateway: payment
Interface: VLAN 1
Source network: vlan 100
Destination network: 130.0.0.0/255.255.255.0
Pre-Connect (Y/N): Y
Tunnel Trusted (Y/N): Y
Forced NAT-T (Y/N): N
Uplink Failover (Y/N): N
IP Compression (Y/N): N
Factory Certificate