Article Options
Mark as New

Mark as Read

Bookmark

Subscribe

Email to a Friend
Mark as New

Bookmark

Subscribe

Email to a Friend
How to Configure Licensing Pool in Mobility Master running AOS 8.x?
esupport
MVP Expert
Requirement:
The Setup must me running minimum ArubaOS 8.x or above.
Solution:
In general Managed Devices (MD) share all the sharable license from the Global pool on Mobility Master(MM).
Along with that MM allow us to configure Customized Licensing pools.
Configuration:
From WebUI:
Step 1:
Mobility Master-> Configuration-> System-> Licensing-> Usage-> Select respective MD
Step 2:
Now check the box "Enable Local License Pool"
Step 3:
In the "Allocated License" row click on the respective license field to allocate the count of the specific license

Step 4:
In the field "ALLOCATE TO THIS POOL" allocate the number for the specific license you need for this pool.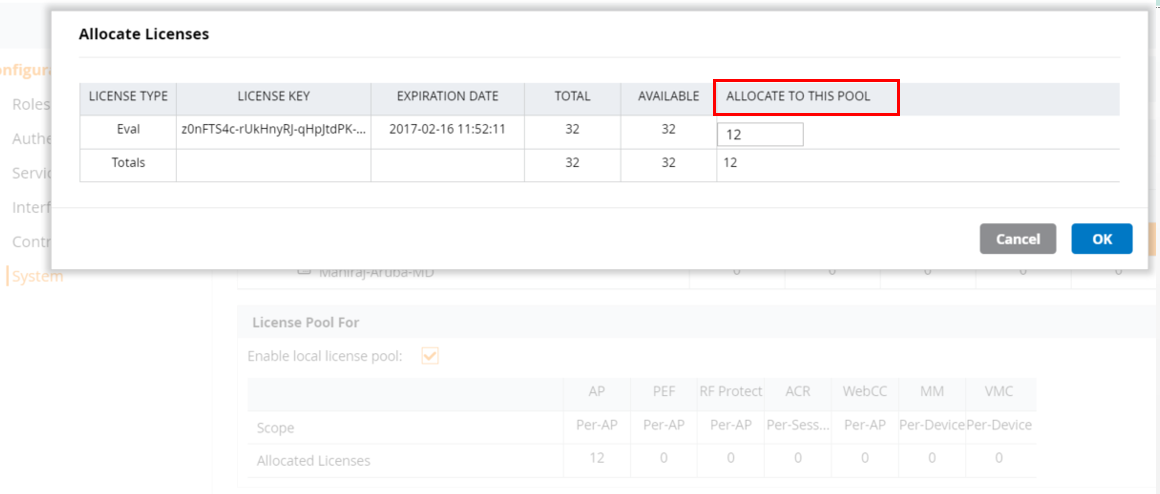 Step 5:
Follow Step 3 and Step 4 for all the licenses you need to allocate it to the pool.
Step 6:
Apply the changes.

From CLI:
To add EVAL license to the pool:
Login to configuration mode of Mobility Master(MM)

Syntax:
(Maniraj-Aruba-MM) [mm] (config) #license-pool-profile <profile-name>
(Maniraj-Aruba-MM) [mm] (License pool profile "/md/Mani-Banglore") #<License-type> eval key <license-Key> <Count to be allocated>
Example:

(Maniraj-Aruba-MM) [mm] (config) #license-pool-profile "/md/Mani-Banglore"
(Maniraj-Aruba-MM) [mm] (License pool profile "/md/Mani-Banglore") #ap-licenses eval key "z0nFTS4c-rUkHnyRJ-qHpJtdPK-GXdL2UCL-UcyGGnuw-YxzkCJS3-jvbmSxL+-cbzSFZlj-MNAEvYz/-NEQ" 12
 (Maniraj-Aruba-MM) [mm] (License pool profile "/md/Mani-Banglore") # pefng-licenses eval key "J6kL3BzQ-jLSyTL+/-ByJi+BPc-lvsEDKkd-kQV6VQ3r-XA/aZ5QT-YyOQH4Xz-I4ZcLHxp-e4DQ96Z9-5G8" 12
 (Maniraj-Aruba-MM) [mm] (License pool profile "/md/Mani-Banglore") # rfp-licenses eval key "YnUvN6cV-XG4p+ssF-+tUU3/HZ-bUvIBMYe-16pT+F7r-15xwzZRg-NSK2GM1Q-P+DuYd/m-KerLxXDC-jWg" 12
 (Maniraj-Aruba-MM) [mm] (License pool profile "/md/Mani-Banglore") # webcc-licenses eval key "jGgl+NLl-MVifMjVq-JMVpusWw-xL4O9seI-PPQUQ2Yv-HHDKLBV0-kkmarJTn-1yUE91Sa-eK+rZETx-Il8" 12

To add permanent license to the pool:
Login to configuration mode of Mobility Master(MM)

Syntax:
(Maniraj-Aruba-MM) [mm] (config) #license-pool-profile <profile-name>
(Maniraj-Aruba-MM) [mm] (License pool profile "/md/Mani-Banglore") #<License-type> <Count to be allocated>
Example:

(Maniraj-Aruba-MM) [mm] (config) #license-pool-profile "/md/Mani-Banglore"

(Maniraj-Aruba-MM) [mm] (License pool profile "/md/Mani-Banglore") #ap-licenses 12

(Maniraj-Aruba-MM) [mm] (License pool profile "/md/Mani-Banglore") # pefng-licenses 12

(Maniraj-Aruba-MM) [mm] (License pool profile "/md/Mani-Banglore") # rfp-licenses 12

(Maniraj-Aruba-MM) [mm] (License pool profile "/md/Mani-Banglore") # webcc-licenses 12
Verification
From WebUI:

From CLI:

(Maniraj-Aruba-MM) [mm] #show license-pool-profile

License pool profile List
-------------------------
Name               References  Profile Status
----               ----------  --------------
/md/Mani-Banglore  0

Total:1
(Maniraj-Aruba-MM) [mm] #show license-pool-profile /md/Mani-Banglore

License pool profile "/md/Mani-Banglore"
----------------------------------------
Parameter                    Value
---------                    -----
AP permanent licenses        N/A
AP expiry licenses           key:z0nFTS4c-rUkHnyRJ-qHpJtdPK-GXdL2UCL-UcyGGnuw-YxzkCJS3-jvbmSxL+-cbzSFZlj-MNAEvYz/-NEQ::num:12
PEFNG permanent licenses     N/A
PEFNG expiry licenses        key:J6kL3BzQ-jLSyTL+/-ByJi+BPc-lvsEDKkd-kQV6VQ3r-XA/aZ5QT-YyOQH4Xz-I4ZcLHxp-e4DQ96Z9-5G8::num:12
RFP permanent licenses       N/A
RFP expiry licenses          key:YnUvN6cV-XG4p+ssF-+tUU3/HZ-bUvIBMYe-16pT+F7r-15xwzZRg-NSK2GM1Q-P+DuYd/m-KerLxXDC-jWg::num:12
XSEC permanent licenses      N/A
XSEC expiry licenses         N/A
ACR permanent licenses       N/A
ACR expiry licenses          N/A
WebCC expiry licenses        key:jGgl+NLl-MVifMjVq-JMVpusWw-xL4O9seI-PPQUQ2Yv-HHDKLBV0-kkmarJTn-1yUE91Sa-eK+rZETx-Il8::num:12
WebCC subscription licenses  N/A
MM permanent licenses        N/A
MM expiry licenses           N/A
VMC permanent licenses       N/A
VMC expiry licenses          N/A
(Maniraj-Aruba-MM) [mm] #