Article Options
Mark as New

Mark as Read

Bookmark

Subscribe

Email to a Friend
Mark as New

Bookmark

Subscribe

Email to a Friend
How to Transfer License from 6.x Controller to 8.x Controller on My Networking Portal?
esupport
MVP
Requirement:
The Mobility Controller should be minimum running AOS: 8.x or above to make use of the transferred license
Solution:
If a controller holds licenses installed before Migration to 8.x it is no longer valid.
The existing license From 6.x controller needs to be transferred to 8.x VMM for the license to work.
Login in to the My networking Portal using the following URL
www.hpe.com/networking/support
Configuration:
Step 1:
Click on "My License" Tab and click on "Transfer License to new platform"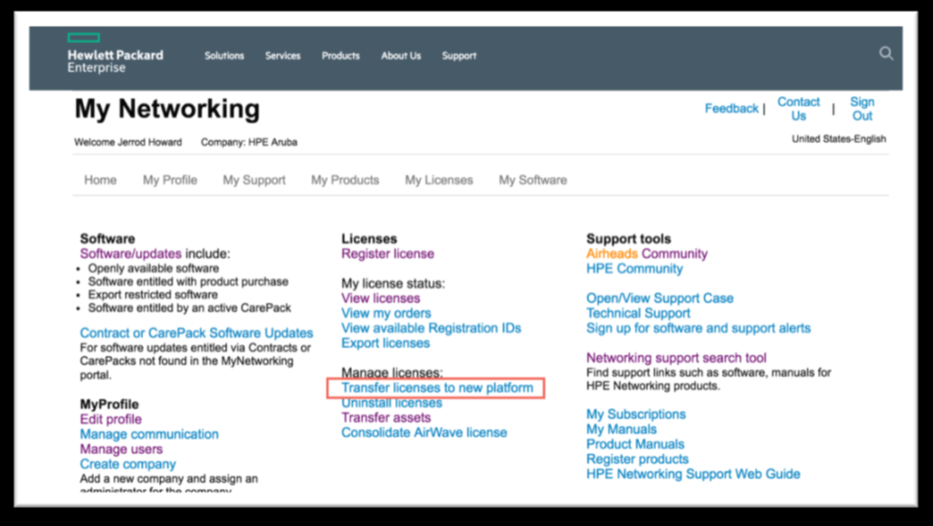 Step 2:
In the "Search" box enter the serial number of controller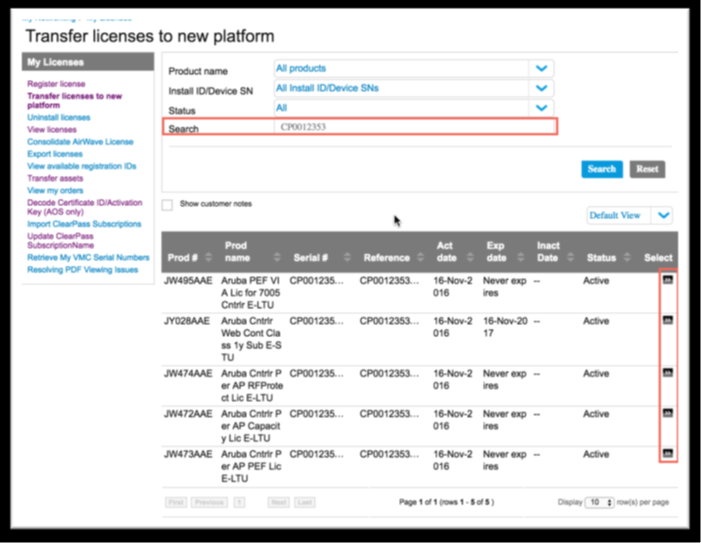 Step 3:
From the output, select one of the licenses tied to the controller serial (it doesn't matter which) and click the '>>' icon on the right
Step 4:
When the license loads, click 'Next' in the lower right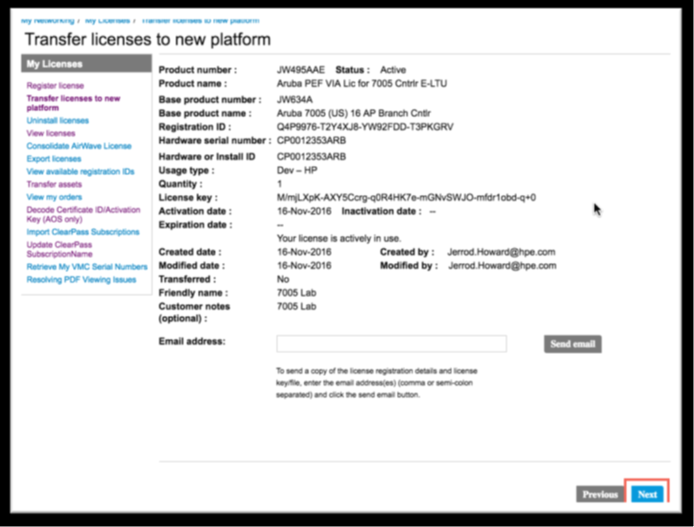 Step 5:
When the next page loads, the top will need the target AOS type and license passphrase of the MM where the licenses will be migrated to. By default, all licenses tied to that serial are selected. Chose to migrate them all, or just specific licenses.
Click 'Transfer' in the bottom right.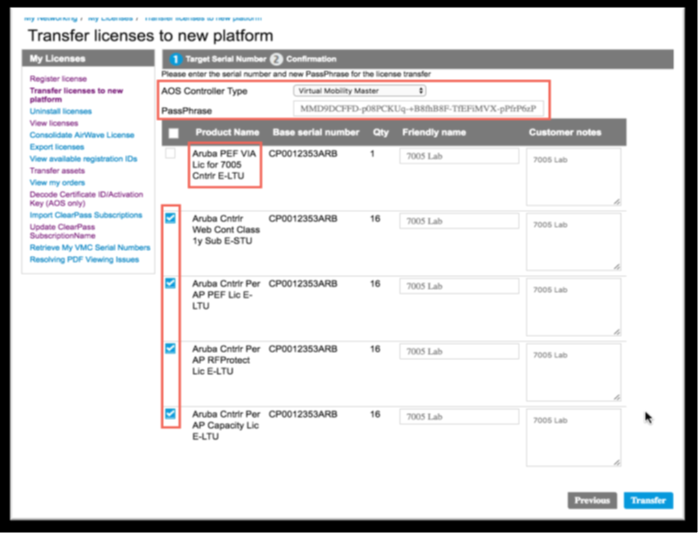 Step 6:
When completed, the final page will load with all the new license keys. These license can be installed only on the respective MM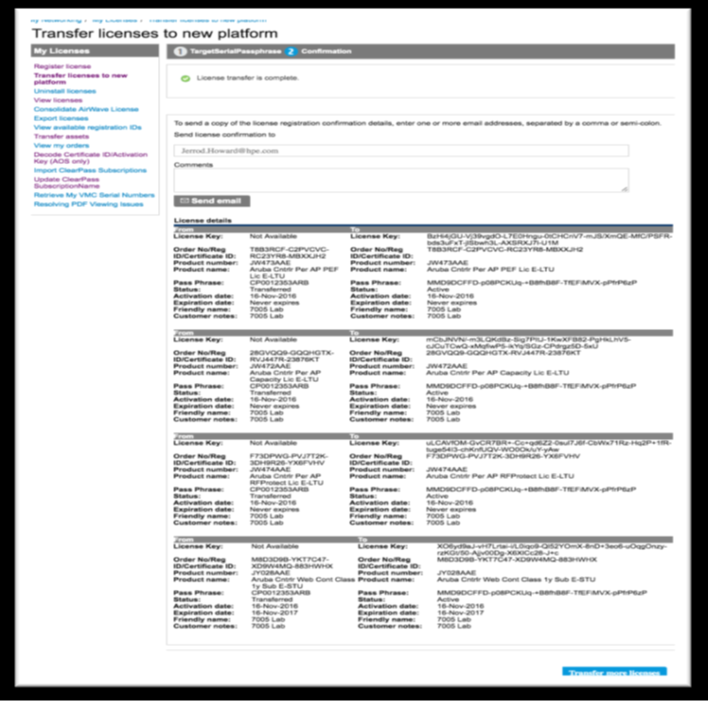 Verification
Once we get the license key, install it on the respective MM.
These license cannot be Added to Managed Device if it not controller specific license.
To view the license on the MM use the following command

(Aruba-MM) [mynode] #show license

License Table
-------------
Key                                                                                   Installed               Expires(Grace period expiry)  Flags  Service Type
---                                                                                   ---------               ----------------------------  -----  ------------
J6kL3BzQ-jLSyTL+/-ByJi+BPc-lvsEDKkd-kQV6VQ3r-XA/aZ5QT-YyOQH4Xz-I4ZcLHxp-e4DQ96Z9-5G8  2017-01-17 11:48:23[1]  2017-02-16 11:48:23            E     Next Generation Policy Enforcement Firewall Module: 32
z0nFTS4c-rUkHnyRJ-qHpJtdPK-GXdL2UCL-UcyGGnuw-YxzkCJS3-jvbmSxL+-cbzSFZlj-MNAEvYz/-NEQ  2017-01-17 11:52:11[1]  2017-02-16 11:52:11            E     Access Points: 32
WRMlRsMO-h3qbtQCg-bXUGQ06r-yy6l91EM-wlTG3upv-RvIkZTTD-eve4Zsxl-lHe8sZbE-GnOn775l-6/M  2017-01-17 11:53:10[1]  2017-02-16 11:53:10            E     MM: 32
YnUvN6cV-XG4p+ssF-+tUU3/HZ-bUvIBMYe-16pT+F7r-15xwzZRg-NSK2GM1Q-P+DuYd/m-KerLxXDC-jWg  2017-01-17 11:53:28[1]  2017-02-16 11:53:28            E     RF Protect: 32
DnFg4EUB-n0cvvgjI-AE8qt08E-k02qDrZs-lOW0Qqew-7vwavvVR-xvjMxigm-W6ntamAI-Gw5vGHCP-XcM  2017-01-17 11:54:57[1]  2017-02-16 11:54:57            E     VMC: 32
jGgl+NLl-MVifMjVq-JMVpusWw-xL4O9seI-PPQUQ2Yv-HHDKLBV0-kkmarJTn-1yUE91Sa-eK+rZETx-Il8  2017-01-20 13:02:58[2]  2017-02-19 13:02:58            E     WebCC: 32

License Entries: 6

Flags: A - auto-generated; E - enabled; S - Subscription; R - reboot/activation key required to activate; D - Not enabled on license client

Note: Time under 'Installed' for Subscription licenses is the license generation time.
(Aruba-MM) [mynode] #

(Aruba-MM) [mynode] #show license debug

Summary of licensing state

Centralized Licensing: Enabled
Switch Role: Master
License Role: License Server
Switch IP: 10.17.164.179
(Aruba-MM) [mynode] #