Article Options
Mark as New

Mark as Read

Bookmark

Subscribe

Email to a Friend
Mark as New

Bookmark

Subscribe

Email to a Friend
How to configure Aruba AP to advertise AP Model & AP Firmware during LLDP negotiations in AOS: 8.x?
esupport
MVP
Requirement:
Aruba controllers or VMware should be running minimum AOS 8.x
Solution:
Wired interfaces on Aruba APs support LLDP by periodically transmitting LLDP PDUs comprised of selected type-length-value (TLV) elements.
The supported Optional TLVs are listed below
port-description: transmit a TLV that gives a description of the AP's wired port in an alphanumeric format.
system-description: transmit a TLV that describes the AP's model number and software version.
system-name: transmit a TLV that sends the AP name or wired MAC address.
capabilities: transmit the system capabilities TLV to indicate which capabilities are supported by the AP.
management-address: transmit a TLV that indicates the AP's management IP address, in either IPv4 or IPV6 format.
Configuration:
Enabling the Optional TLVs:
In the below sample we are using the default profile
From WebUI: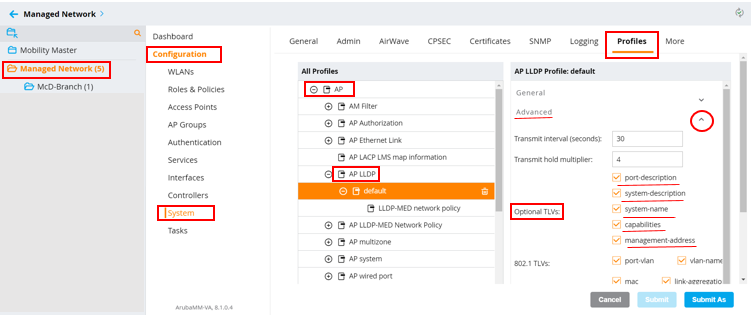 1. After enabling the required options Click Submit.
2. Click Pending Changes.
3. In the Pending Changes window, select the check box and click Deploy changes.
From CLI:
Syntax:

(host) [md] (config) #ap lldp profile <profile>
(host) ^[md] (AP LLDP Profile "<profile>") #optional-tlvs [capabilities|managementaddress| port-description|system-description|system-name]
Example:

(Aruba-MM) [md] (config) #ap lldp profile default
(Aruba-MM) ^[md] (AP LLDP Profile "default") #optional-tlvs capabilities
(Aruba-MM) ^[md] (AP LLDP Profile "default") #optional-tlvs managementaddress
(Aruba-MM) ^[md] (AP LLDP Profile "default") #optional-tlvs port-description
(Aruba-MM) ^[md] (AP LLDP Profile "default") #optional-tlvs system-description
(Aruba-MM) ^[md] (AP LLDP Profile "default") #optional-tlvs system-name
(Aruba-MM) ^[md] (AP LLDP Profile "default") #write memory
Verification

(Aruba-MM) *[md] #show ap lldp profile default

AP LLDP Profile "default"
-------------------------
Parameter                        Value
---------                        -----
PDU transmission                 Enabled
Reception of LLDP PDUs           Enabled
Transmit interval (seconds)      30
Transmit hold multiplier         4


Optional 

TLVs

                    port-description system-description system-name capabilities management-address


802.1 TLVs                       port-vlan vlan-name
802.3 TLVs                       mac link-aggregation mfs power
LLDP-MED network policy profile  N/A
LLDP-MED TLVs