Article Options
Mark as New

Mark as Read

Bookmark

Subscribe

Email to a Friend
Mark as New

Bookmark

Subscribe

Email to a Friend
How to do IKEv2+Suite-B support for Master-Local/Master Redundancy on controller?
esupport
MVP
Requirement:
Requirement
To do configuration of IKEv2 and suite b for establishing IPSec tunnel between different topologies like master-local, master-master and cluster root and cluster member
Topology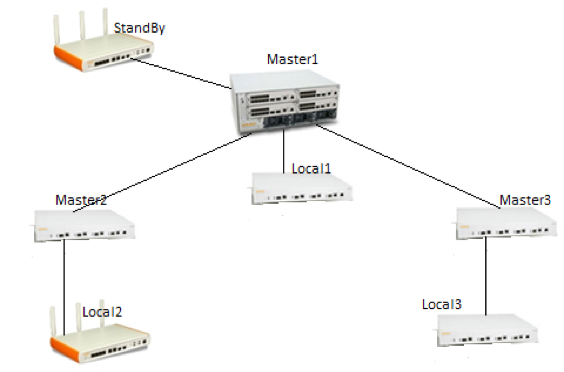 Solution:
IKEv2 uses Three different kinds of certs
Factory certs :- Certs which are present in controller by default
RSA Customer certificates
Suite B crypto using ECDSA customer certificates
Solution has been provided on the configuration knob and at the verification knob.
Configuration:
When using Factory certs no upload is required, make sure certs are present on controller using show tpm cert-info and using Custom certificates Server and trusted certificates have to be uploaded to the controller using WebUI.
From WEBUI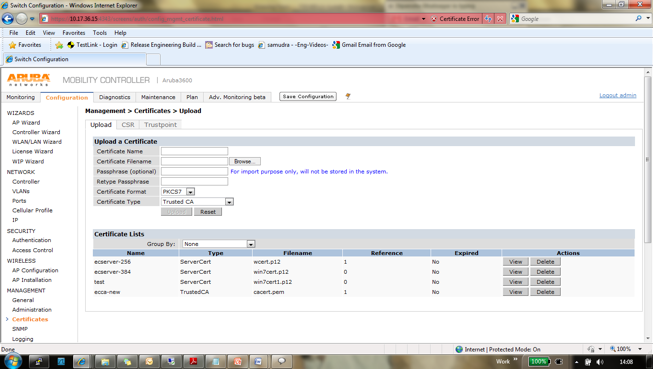 Master-Local Configuration using Factory certificates
On Local controller
(London) (config) #masterip <master ip> ipsec-factory-cert master-mac-1 <Macaddr of active> master-mac-2 <macaddrof standby>
On Master controller
(USA) (config) #local-factory-cert local-mac<localcontrollermac>
Master-Local Configuration using custom certificates
On Local Controller:-
RSA Certificates
(London) (config) #masterip <masterip> ipsec-custom-cert master-mac-1 <mastercertCN> ca-cert <trusted certname> server-cert <servercertname>
ECDSA Certificates
(London) (config) #masterip <masterip> ipsec-custom-cert master-mac-1 <mastercert CN> ca-cert <trusted certname> server-cert <servercertname> suite-b gcm128/256
On Master Controller
RSA Certificates
(USA) (config) #local-custom-cert local-mac <localcertCN> ca-cert <trustcertname> server-cert <servercertname>
ECDSA Certificates
(USA) (config) #local-custom-cert local-mac <localcertCN> ca-cert <trustcertname> server-cert <servercertname> suite-b gcm128/256
Configuration – Master Redundancy Using Factory & Custom Certificates
(USA) (config-master-redundancy)#peer-ip-address <peerip> ipsec-factory-cert peer-mac <Maccaddress of Peer>
(USA) (config-master-redundancy)#peer-ip-address <peerip> ipsec-custom-cert peer-mac <peercertificateCN> ca-cert <trusted certificate name> server-cert <servercert name>
(USA) (config-master-redundancy)#peer-ip-address <peerip> ipsec-custom-cert peer-mac <peercertificateCN> ca-cert <trusted certificate name> server-cert <servercert name> suite-b gcm128/256
Configuration – Cluster Using Factory Certificates
On Cluster Member
(USA) (config) #cluster-root-ip 1<clusterrootip> ipsec-factory-cert root-mac-1 <macaddress of clusterroot>
On Cluster Root:-
(USA) (config) #cluster-member-factory-cert member-mac <member mac>
Configuration – Cluster Using Customer Certificates
On Cluster Root
RSA Certificates
(USA (config) #cluster-member-custom-cert member-mac <membercertificateCN> ca-cert <trustedcertname> server-cert <servercertname>
ECDSACertificates
(USA) (config) #cluster-member-custom-cert member-mac <membercertificateCN> ca-cert <trustedcertname> server-cert <servercertname> suite-b gcm128
RSA Certificates
(USA) (config) #cluster-root-ip <rootip> ipsec-custom-cert root-mac-1 <rootcertCN> ca-cert <trustedcertname> server-cert <servercertname>
ECDSA Certificates
(USA) (config) #cluster-root-ip <rootip> ipsec-custom-cert root-mac-1 <rootcertCN> ca-cert <trustedcertname> server-cert <servercertname> suite-b gcm128/256
Verification
(USA) (config) #show crypto ipsec sa
IPSEC SA Active Session Information
-----------------------------------
Initiator IP Responder IP InitiatorID ResponderID Flags Start Time Inner IP
------------ ------------ ----------- ----------- ----- --------------- --------
10.4.27.11 10.4.27.10 10.4.27.11/32 10.4.27.10/32 T Dec 9 01:01:58 -
IPSEC SA (V2) Active Session Information
-----------------------------------
Initiator IP Responder IP SPI(IN/OUT) Flags Start Time Inner IP
------------ ------------ ---------------- ----- --------------- --------
10.4.27.4 10.4.27.10 1c986200/67a58c00 UT2 Dec 9 02:24:03 -
Flags: T = Tunnel Mode; E = Transport Mode; U = UDP Encap
L = L2TP Tunnel; N = Nortel Client; C = Client; 2 = IKEv2
Total IPSEC SAs: 2
USA) (config) #show crypto isakmp sa
ISAKMP SA Active Session Information
------------------------------------
Initiator IP Responder IP Flags Start Time Private IP
------------ ------------ ----- --------------- ----------
10.4.27.11 10.4.27.10 r-a-p Dec 9 01:01:58 -
10.4.27.4 10.4.27.10 r-v2-c Dec 9 02:23:55 -
Flags: i = Initiator; r = Responder
m = Main Mode; a = Agressive Mode v2 = IKEv2
p = Pre-shared key; c = Certificate/RSA Signature; e = ECDSA Signature
x = XAuth Enabled; y = Mode-Config Enabled; E = EAP Enabled
3 = 3rd party AP; C = Campus AP; R = RAP
V = VIA; S = VIA over TCP
Total ISAKMP SAs: 2
Troubleshooting commands
Show crypto ipsec sa
Show crypto isakmp sa
Show datapath session table
Show log security all