Article Options
Mark as New

Mark as Read

Bookmark

Subscribe

Email to a Friend
Mark as New

Bookmark

Subscribe

Email to a Friend
What is "WAN operation mode"
esupport
MVP
Q:
What is "WAN operation mode" in VAP ? What are the different Modes? How it works ? How it will effect RAP operation modes ?
A:
What is WAN operation Mode :
New knob "WAN Operation" is added under Virtual-AP profile.
This feature more useful for BOC deployment because it will work along with HCM( Health Check manager)
As the Master controller does not have uplink manager enabled and won't interact with Health check manager.
Any AP on the master will only have Primary or Always VAPs present.
RAPs using a VAP with WAN operation set to Primary or Backup will behave the same as a CAP
RAP-operation can not be enabled when WAN-operation is configured as Backup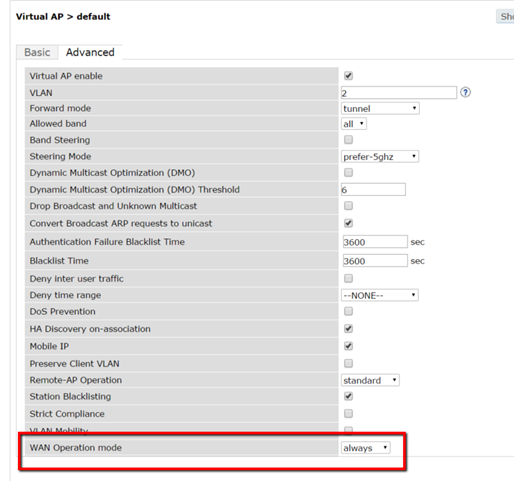 WAN operation Modes :
Three modes can be defined under WAN Operation.

Always mode: VAP is active all the time. It is the default mode, all VAPs will be in this mode on upgrade from previous release.
Primary mode: VAP is only active when at least one uplink is up, and is disabled when all links are down.
Backup mode: VAP is only active when all uplinks are down. Backup mode can only be Open or PSK opmodes.

It is closely tied to Health Check Manager and Uplink Manager.
When all uplinks are determined to be down, STM will be notified and SAPM will update the configuration change and push the change to APs.
To take advantage of this feature, recommend configuring 802.1x VAP as "Primary" mode in WAN operation, configuring an Open or PSK backup VAP as "Backup" mode
How to verify the Config :

How to verify the Functionality:
Show ap bss-table
On Initial bring up when WAN connection is up this command has no change.
Only Always and Primary VAPs are active.

When WAN link goes down a new status WAN Link State shows down.
Backup SSIDs become Active.
Always SSIDs are active
Primary SSIDs are disabled.
WAN Link State and "wan-mode" column persists even if the WAN link comes back up.
show ap bss-table ap-name boc-ap