Article Options
Mark as New

Mark as Read

Bookmark

Subscribe

Email to a Friend
Mark as New

Bookmark

Subscribe

Email to a Friend
How to disable HT on a particular SSID in IAP
esupport
MVP
Requirement:
Need to disable HT on a particular SSID in IAP as per the client requirement.
While HT needs to be enabled globally for other SSIDs.
Solution:
Disable HT on the particular SSID.
Configuration:
Login to the webUI of the IAP.
Navigate to Configuration -> Networks -> Edit the particular SSID -> Show advanced Options.
Disable High Throughput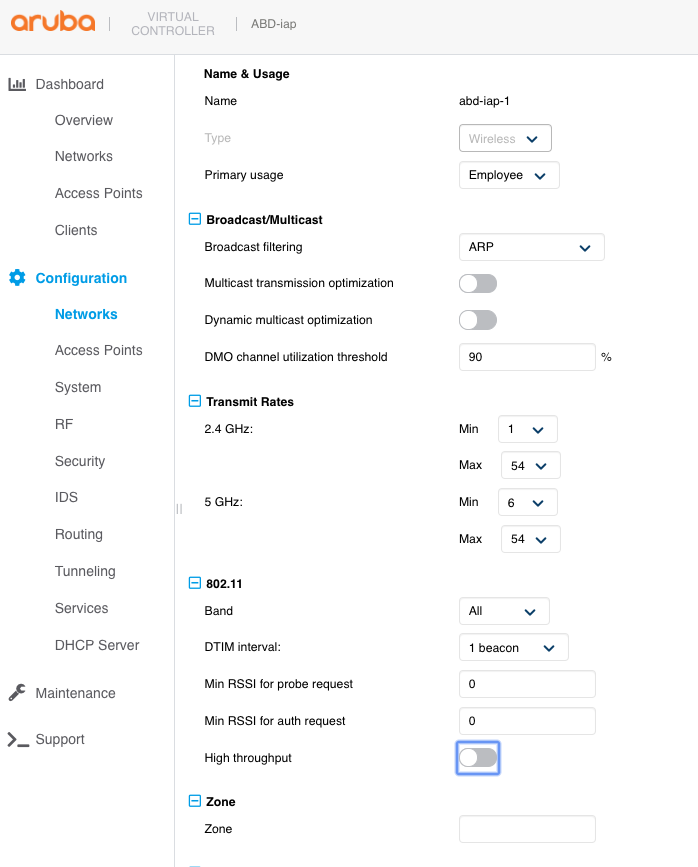 Verification
Login to the CLI and execute the command #show ap bss-table.
The partcicular SSID will not have HT enabled.

IAP-VC# show ap bss-table 

Aruba AP BSS Table
------------------
bss                ess        port  ip           phy    type  ch/EIRP/max-EIRP  cur-cl  ap name            in-t(s)  tot-t           flags
---                ---        ----  --           ---    ----  ----------------  ------  -------            -------  -----           -----
c8:b5:ad:e4:42:30  abd-iap-1  ?/?   10.23.200.5  

a   

   ap    149/18.0/24.3     0       c8:b5:ad:c6:44:22  0        25d:10h:35m:5s  
c8:b5:ad:e4:42:31  employee   ?/?   10.23.200.5  a-VHT  ap    149E/18.0/24.3    0       c8:b5:ad:c6:44:22  0        25d:10h:35m:5s         
c8:b5:ad:e4:42:20  abd-iap-1  ?/?   10.23.200.5  

g 

     ap    1/9.0/16.2        0       c8:b5:ad:c6:44:22  0        25d:10h:35m:5s  
c8:b5:ad:e4:42:21  employee   ?/?   10.23.200.5  g-HT   ap    1/9.0/16.2        0       c8:b5:ad:c6:44:22  0        25d:10h:35m:5s          

Channel followed by "*" indicates channel selected due to unsupported configured channel.
"Spectrum" followed by "^" indicates Local Spectrum Override in effect.

Num APs:4
Num Associations:0

Flags:       K = 802.11K Enabled; W = 802.11W Enabled; 3 = WPA3 BSS; O = OWE Transition mode OWE BSS; o = OWE Transition mode Open BSS; M = WPA3-SAE mixed mode BSS
IAP-VC#