Article Options
Mark as New

Mark as Read

Bookmark

Subscribe

Email to a Friend
Mark as New

Bookmark

Subscribe

Email to a Friend
How to retrieve the core file from the IAP.
esupport
MVP Expert
Requirement:
We need GUI access to IAP to get the tech support and to retrieve the core files.
Solution:
Whenever an internal process crashes in an IAP, it will generate a core dump and store it till is rebooted. This file can be downloaded and sent to TAC for further analysis.
1. To check if there is a core file present on the IAP run the command #show version. If there is a core file, it will give a core file url:

show version
Aruba Operating System Software.
ArubaOS (MODEL: 225), Version 6.4.2.6-4.1.1.8
Website: http://www.arubanetworks.com
Copyright (c) 2002-2015, Aruba Networks, Inc.
Compiled on 2015-07-25 at 04:49:45 PDT (build 50989) by p4build

AP uptime is 23 hours 48 minutes
Reboot Time and Cause: unknown


Core file URL: 

http://192.168.1.64/core/


end of show version

2. Open the link in the browser: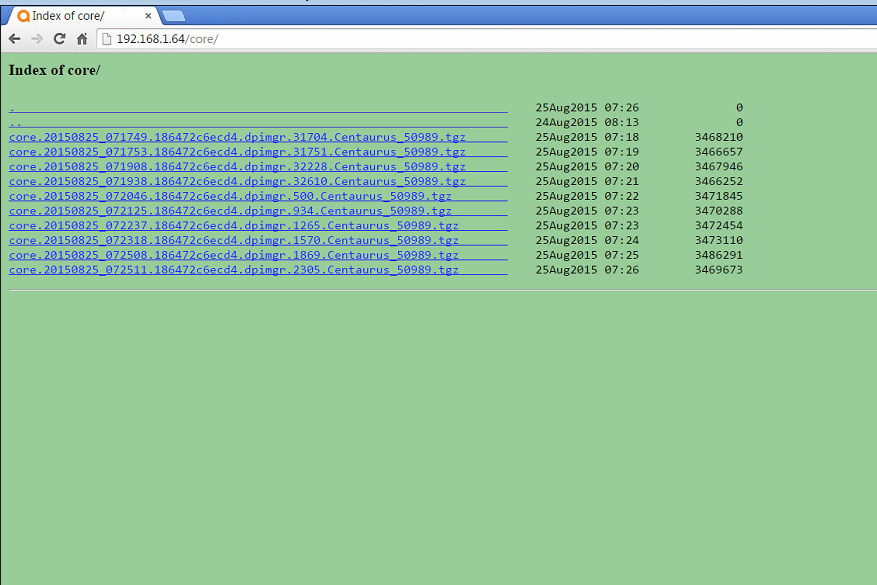 3. Click on the hyperlinks to download the core files.
4. Get the tech support for that AP:
#show tech-support
5. Send both of these files to Aruba TAC for further analysis.
Configuration:
There is extra configuration needed for this operation.
Verification
We can verify if the IAP has core dump by executing the "show version" command. If the show version command shows the core URL, it is verified it has a core dumo which can be retrieved for further analysis by Aruba TAC.