Article Options
Mark as New

Mark as Read

Bookmark

Subscribe

Email to a Friend
Mark as New

Bookmark

Subscribe

Email to a Friend
Unicast ARP-Only option on IAP
esupport
MVP
Requirement:
Does IAP supports conversion of ARP request packets to unicast ?
Solution:
Starting IAP version 4.3, a new option called "Unicast-ARP-Only" has been added in the SSID profile, under broadcast filtering.
Unicast-ARP-Only -> When set to Unicast-ARP-Only, the IAP allows all broadcast and multicast frames as it is, however the ARP requests are converted to unicast frames and sends them to the associated clients.
Configuration:
We can configure this option from the Web UI.
Edit the SSID Profile- Click on Show advanced option on WLAN Settings tab.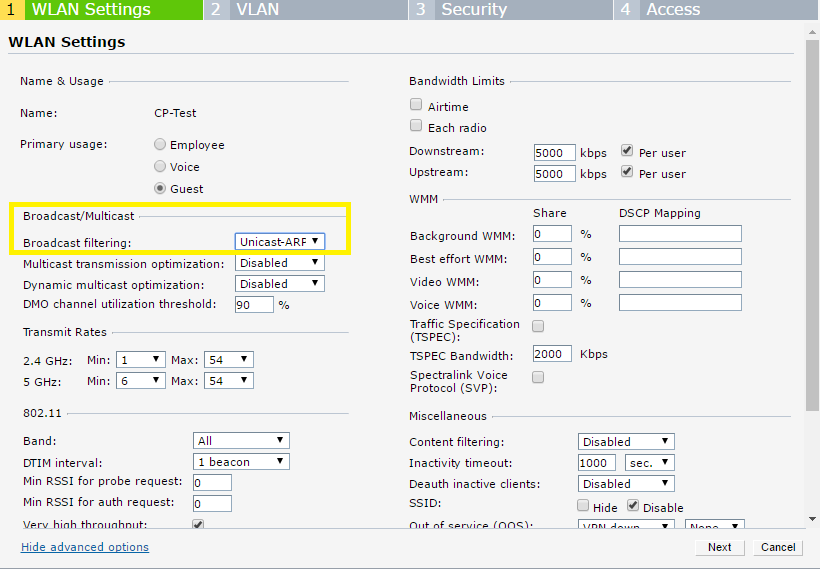 CLI :

Verification
We can verify this parameter from the IAP's CLI :
wlan ssid-profile CP-Test
disable
index 0
type guest
essid CP-Test
wpa-passphrase 1e145f70eed823dadb9ddb3910d90bf3d4674118518f8743
opmode wpa2-psk-aes
max-authentication-failures 0
vlan 350
auth-server InternalServer
rf-band all
captive-portal external profile CP
dtim-period 1
broadcast-filter unicast-arp-only ---------->This shows the parameter.
dmo-channel-utilization-threshold 90
local-probe-req-thresh 0
max-clients-threshold 64