Article Options
Mark as New

Mark as Read

Bookmark

Subscribe

Email to a Friend
Mark as New

Bookmark

Subscribe

Email to a Friend
What configuration is needed on Aruba Instant AP to monitor BLE beacons using Meridian cloud?
esupport
MVP
Q:
What configuration is needed on Aruba Instant AP to monitor BLE beacons using Meridian cloud?
A:
Meridian solution from Aruba, make use of beacons for location and push notifications. The major administrative challenge with this solution is manage and monitor these beacons which are usually in 10's and 100's, depending on the kind of deployment. Aruba Instant wireless backbone can turn this overhead into ease and help monitoring them with very minimal configuration.
Not every Aruba Instant AP is designed or programmed to support this functionality. IAP-225/224 or IAP-215/214 come up with USB port, which enables them with this capability, when USB beacon is plugged in. Adding to that, IAP-325/324 come with built-in hardware from factory that helps them to listen to beacons.
Instant APs in the cluster, listen to deployed beacons and forward the same to Virtual Controller (or) Master IAP. VC would then then relay the data about the beacons to beacon management console sitting in the meridian cloud. For this communication to go through, a basic configuration need to be enabled on Instant cluster:
Beacons Management Prerequisites:
USB Beacons plugged into an IAP-215/AP-225. (or) IAP-325

InstantOS version running 6.4.4.4-4.2.3.1 or higher.
Below parameters needed to be configured in the ap system profile on mobility controller:
BLE Endpoint URL
BLE Auth Token
BLE Operation Mode
BLE Endpoint URL: This URL points out controller to meridian cloud and helps to resolve the endpoint to form a secure tunnel. This URL is as would be :
https://edit.meridianapps.com/api/beacons/manage
BLE Auth Token: This is unique identifier per meridian account and differentiates between customers. This token can be obtained from beacon settings page of meridian account as shown below: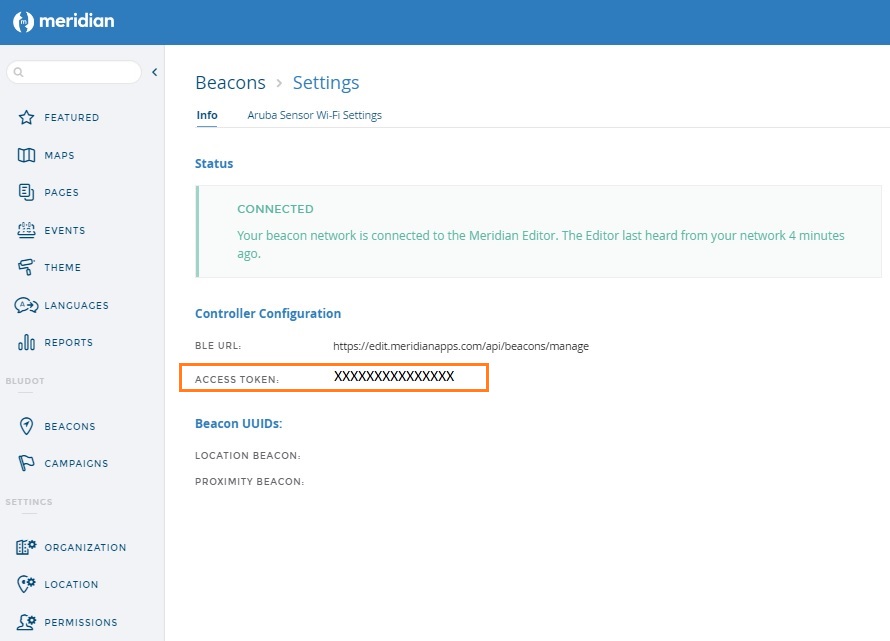 BLE Operation Mode: This enables the Controller to report Beacons status to the Meridian Editor. This is set to "Disabled" by default. Set to "Beaconing".
Below image shows the configuration on Instant cluster: