Article Options
Mark as New

Mark as Read

Bookmark

Subscribe

Email to a Friend
Mark as New

Bookmark

Subscribe

Email to a Friend
Airwave discovering duplicate Meraki Rogue AP device
esupport
MVP
Problem:
Airwave discovering single Meraki Rogue AP devices twice.
Diagnostics:
In Airwave RAPIDS > Setup page we have two major settings based on this , Airwave decides whether its a existing rogue or new.
Wired-to-Wireless MAC Address Correlation (0-8 bits):
Discovered BSSIDs and LAN MAC addresses which are within this bitmask will be combined into one device. 4 requires all but the last digit match (aa:bb:cc:dd:ee:fX). 8 requires all but the last two digits match (aa:bb:cc:dd:ee:XX).
Wireless BSSID Correlation (0-8 bits):
Similar BSSIDs will be combined into one device when they fall within this bitmask. Setting this value too high may result in identifying two different physical devices as the same rogue. Note: When you change this value, RAPIDS will not immediately combine (or un-combine) rogue records. Changes will occur during subsequent processing of discovery events.
Here the last two digits changes for any AP radio MAC and wireless & LAN MAC. Default each radio can broadcast eight SSIDs, so a dual radio AP can broadcast 16 SSIDs. in below screen shot we could see the last digits are different for radios.

Solution
In Meraki AP, first digits of MAC address are changing due to this Airwave discovering same rogue device twice. Rapids setting looks for last two octets not the first octets in MAC address.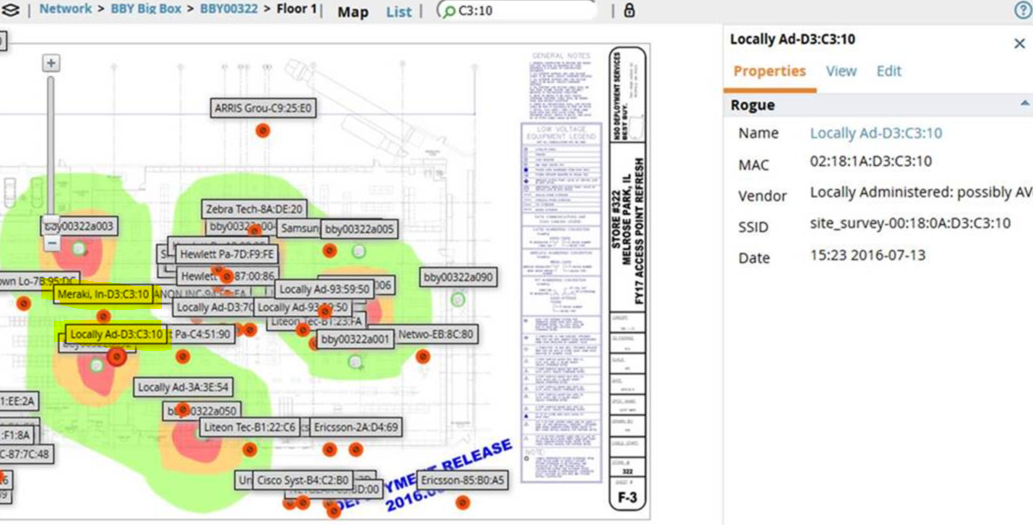 It might be a non standard behavior of Meraki AP, where the first octets are changing instead of last digits.