Article Options
Mark as New

Mark as Read

Bookmark

Subscribe

Email to a Friend
Mark as New

Bookmark

Subscribe

Email to a Friend
How to determine list of interfaces the APs are connected through to the controller
esupport
MVP
Requirement:
Within a WLAN deployment there might be a requirement to determine all the interfaces of the APs via which they are connected to the Aruba controllers. This article will help determine this information for ALL APs being monitored by a single Airwave server.
Solution:
The following command will help determine the interface information.
dbc "select ap.device_config_name, ap.name, ap.apparent_ip, ap.device_config_aruba_ap_group_name, if_speed_in, if_speed_out, ap.aruba_ap_group_name, interface.name from ap, interface where (interface.ap_id=ap.id and interface.name='Enet0' and interface.oper_status=1);"
A sample of the command is shown below.
device_config_name | name | apparent_ip | device_config_aruba_ap_group_name | if_speed_in | if_speed_out | aruba_ap_group_name | name
--------------------+-------------------+--------------+-----------------------------------+-------------+--------------+---------------------+-------
New AP name | New AP name | 10.9.211.206 | | | | | Enet0
00:24:6c:c4:d3:22 | 00:24:6c:c4:d3:22 | 10.9.211.170 | Satish Test | 1000000000 | 1000000000 | Test | Enet0
ap 124 $$$$ | ap 124 $$$$ | 10.9.211.251 | Airwave_test | 1000000000 | 1000000000 | Airwave_test | Enet0
(3 rows)
If we want to know the AP's that are connected on the 'Enet1' interface, just change the value to 'Enet1' in the database query.
Configuration:
Attached to this article is a script to automate this command output as required. Place this script file in the /tmp directory of the AMP server using "winscp" software and run the below command sequence from the CLI of the AMP server.
# cd /tmp
# chmod 777 port_negotiation.sh
# ./port_negotiatioin.sh
It will create a CSV file with the name 'Enet0_ports.csv' in the /tmp directory.
Verification
If you want to know where this information is shown on the gui, take a look at the picture below.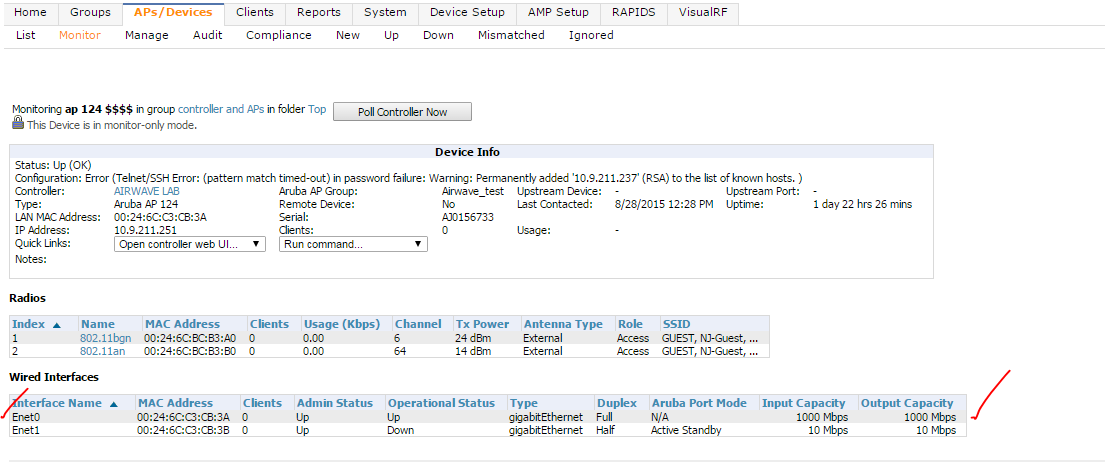 Attachments:
port_negotiation.sh