Article Options
Mark as New

Mark as Read

Bookmark

Subscribe

Email to a Friend
Mark as New

Bookmark

Subscribe

Email to a Friend
How to enable SNMPV3 in the ArubaOS switches?
esupport
MVP
Requirement:
This article is about enabling SNMPv3 in the Aruba switches and adding them to Airwave.


Solution:
Please check the "Airwave - Supported Infrastructure Devices" for the version of Airwave that you are running and confirm that your switch is in the list and running the validated firmware version or higher.
For example: Below are the list of supported switches and firmware versions in Airwave 8.2.4.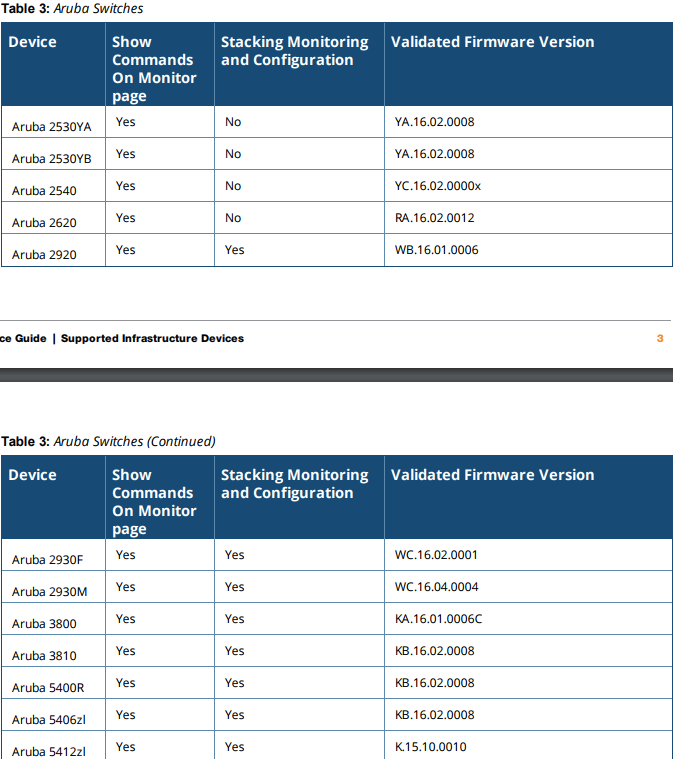 Configuration:
Follow the below 3 steps to enable SNMPv3 in the switches.
Step 1: Enabling SNMPv3.
Note: Enabling SNMPv3 will create a default SNMPv3 user called "initial" as shown below. You can use the default "initial" account or create one to add the switch to Airwave.
HP-2530-24G-PoEP(config)# snmpv3 enable
SNMPv3 Initialization process.
Creating user 'initial'
Authentication Protocol: MD5
Enter authentication password: ******
Privacy protocol is DES
Enter privacy password: ******
User 'initial' is created
Would you like to create a user that uses SHA? no //Say yes, if you want to create a user that uses SHA algorithm instead of MD5.
User creation is done. SNMPv3 is now functional.
Would you like to restrict SNMPv1 and SNMPv2c messages to have read onlyaccess (you can set this later by the command 'snmp restrict-access'): no
Step 2: Creating SNMPv3 user.
HP-2530-24G-PoEP(config)# snmpv3 user <username> auth sha <auth password> priv aes <privacy password>
Ex: # snmpv3 user monit_admin auth sha aruba123 priv aes aruba123
Step 3: Adding the user to managerpriv group(mandatory).
HP-2530-24G-PoEP(config)# snmpv3 group managerpriv user <username> sec-model ver3
Ex: HP-2530-24G-PoEP(config)# snmpv3 group managerpriv user monit_admin sec-model ver3
You can add the Aruba/HPE switches in Airwave under Device Setup >> Add.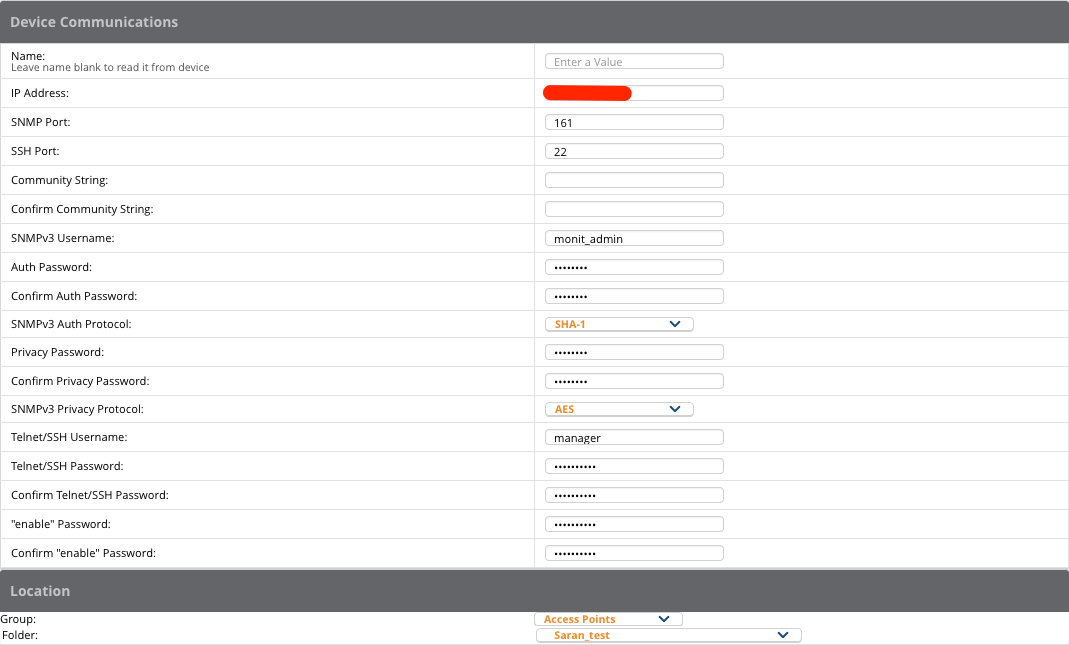 Mandatory configuration in Airwave:
Ensure the SNMP Version is set to 3 in the Group where your device is added/present. Navigation: Groups >> select your group >> Basic >> Universal Devices, Routers and Switches.

Please refer Airwave user guide from various options to add devices and more configuration.


Verification
Status of the switch after adding to Airwave(8.2.4) using SNMPv3.