Article Options
Mark as New

Mark as Read

Bookmark

Subscribe

Email to a Friend
Mark as New

Bookmark

Subscribe

Email to a Friend
How to setup synthetic test in Airwave
esupport
MVP
Q:
How to Setup Synthetic Test in Airwave?
A:
There are two places where you can set up and run a synthetic test. One is where you manually select your client and target APs from the Clarity dashboard. The other is where you select your client AP from a floor plan in VisualRF. In both scenarios, you can select the targets, or let the Clarity Engine decide. This process includes: selecting your APs, adding basic information to your test, and setting up and running your test.
Selecting Your APs
Clarity works with VisualRF, letting you select APs and run tests. When you select your client AP from the floor plan, Clarity determines which neighboring APs make a good target and automatically lists them in the setup page.Using Clarity Synthetic to select your client and target APs Clarity Synthetic allows you to batch select any AP. When you select the client and target APs, Clarity Synthetic displays the names of the APs and its folders.
1. Go to Home > Clarity and click the Synthetic link.
2. Click Schedule Tests.
3. Select the Client AP(s). You can select as many devices as you want from the AP list. Clarity Synthetic only lists
devices that are up.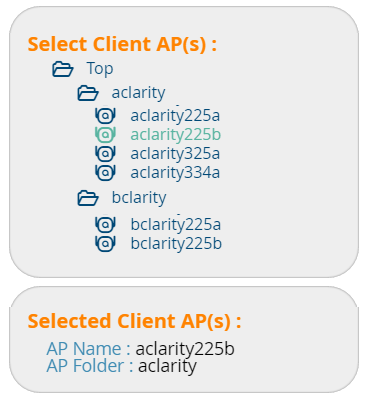 4. Select the Target AP(s). For manual selection, click Select Target AP(s), select one or more devices from the
AP list, and then click Define Test Profile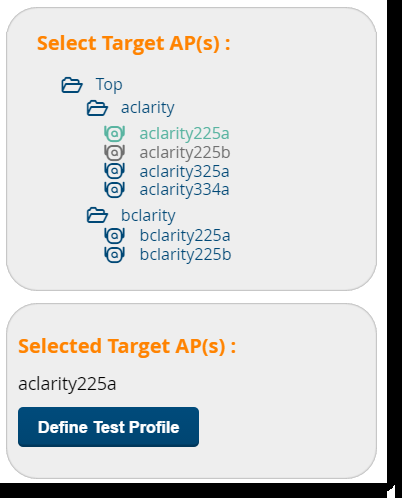 If you want the Clarity Engine to determine the target AP, skip the target AP selection and click Define Test
Profile. Clarity Engine will select only 1 target AP.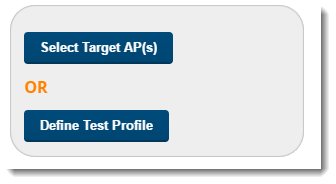 Using VisualRF to select your client AP

1. Go to VisualRF > Floor Plans and select a floor plan.
2. Select an AP in one of the following ways:
Right-click the AP and choose Clarity Synthetic from the shortcut menu.
Click the AP, navigate to the Edit tab, and then click Clarity Synthetic.