Article Options
Mark as New

Mark as Read

Bookmark

Subscribe

Email to a Friend
Mark as New

Bookmark

Subscribe

Email to a Friend
Rogue count on AMP does not match with number of Rogues displayed by VisualRF
esupport
MVP
Q:
I see 741 rogues on AMP's top header while VisualRF displays only 243 rogues on the Campus tab.
AMP

VisualRF
A:
There are two things to consider here.
1: The Top header count may contain cumulative sum of below classifications.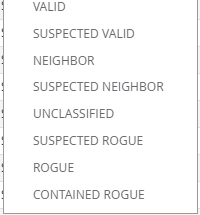 This can also be configured under Home- User Info tab under "Filter Level For Rogue Count" option. If we set this as "Suspected Rogue" the the top header will contain the sum of " Suspected Rogue, Rogue and Contained Rogue"
We must be looking at Rapids - Overview Tab to get the correct count.
2: Check the Rapids-Setup tab.

If the "Rapids Export Threshold " is set to "Suspected Rogue", it means that AMP will send only Suspected rogue, rogue and contained rogue data to VisualRF.
VisualRF's job is to locate the rogue on the floor plan. To locate any rogue device, VRF follows Triangulation mechanism. It means it needs information from 3 or more APs about the same rogue device to plot it on the map.
The more the sample size the better location of the rogue. As per default configuration VisualRF will only show the rogues which are heard by 3 or more devices.
Under VisualRF - Setup tab, we can see the sample size is set to 3.

We can reduce it to a lower value but with the below impact.
1: The location will not be accurate.
2: Load on VRF will be very high, causing latency while navigation.