Article Options
Mark as New

Mark as Read

Bookmark

Subscribe

Email to a Friend
Mark as New

Bookmark

Subscribe

Email to a Friend
Ajax Error on Firmware File upload on GUI of 1920S switch
esupport
MVP
Problem:
While uploading the firmware on the switch 1920S, we receive an ajax-error.
The error appears on a pop-up window with the following description :
Ajax request of ".................." Failed with response :
and then we have a script that is put out.
The error mentioned and described above screen-shot of the same is as below :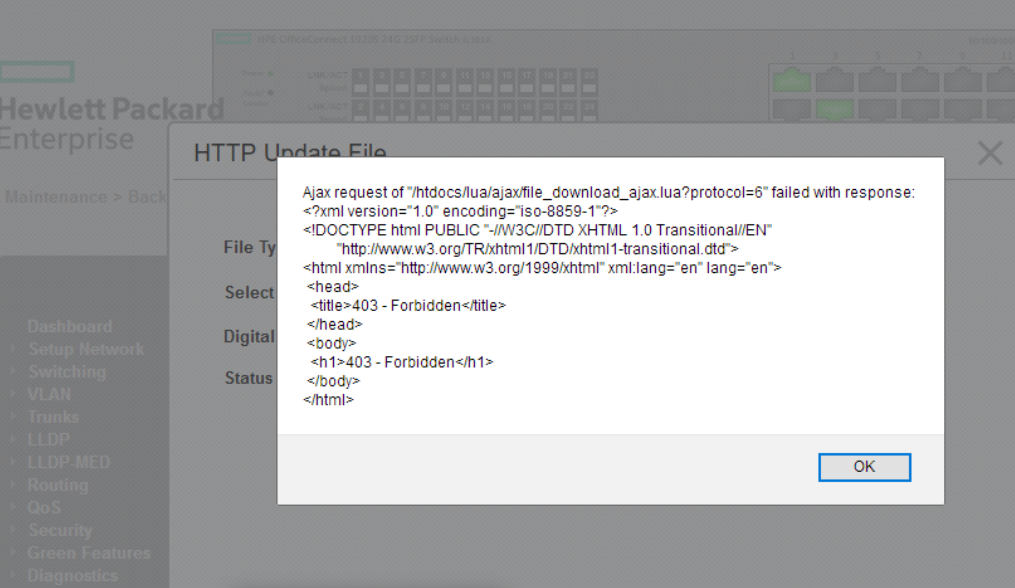 Diagnostics:
The error comes up during file transfer on the switch.
Troubleshooting steps that can be tried out in this:
1. Scripting options on the browser's settings needs to be checked.
2. On the Release notes of the firmware for the 1920S switch, we have recommended revisions and version of browsers that are part of compatible list.
Try to access the switch in those revisions.
3. Try different revisions of java on the machine that is used to access the switch.
4. Try different upload options available on the switch for firmware transfer: Ex : TFTP, HTTP etc.
Solution
The Workaround for the Issue :
1. The upload can be done via TFTP method
2. Downgrade the JAVA revision on the machine, Current version available is java 8 or higher.
Would suggest a downgrade to JAVA 6.
This should help in the upload of the firmware file.