Article Options
Mark as New

Mark as Read

Bookmark

Subscribe

Email to a Friend
Mark as New

Bookmark

Subscribe

Email to a Friend
How to integrate MAS (Zero Touch Provisioning) with Activate and AMP?
esupport
MVP
Requirement:
The requirement is that the end user just connects the MAS to the internet and the administrator wants to manage the device using their existing Airwave device.
Solution:
With ZTP(Zero Touch Provisioning) the MAS device can be managed using Aruba Activate and Airwave.
Configuration:
Make sure that the MAS gets the Ip address from DHCP server with internet connection to reach Activate and Airwave.
MAS should have 7.3 and above version.
MAS that needs to provisioned should be present under desired folder in the Activate-account.
In the below example, we have added this device in activate under the folder "CHNTAC" folder which has the provisioning rule "switch_to_amp"
Activate Screenshots:
The MAS will initiate https session to the Activate to download the provisioning rule to contact the Airwave server (as shown in the below screenshot) which has the configuration for MAS.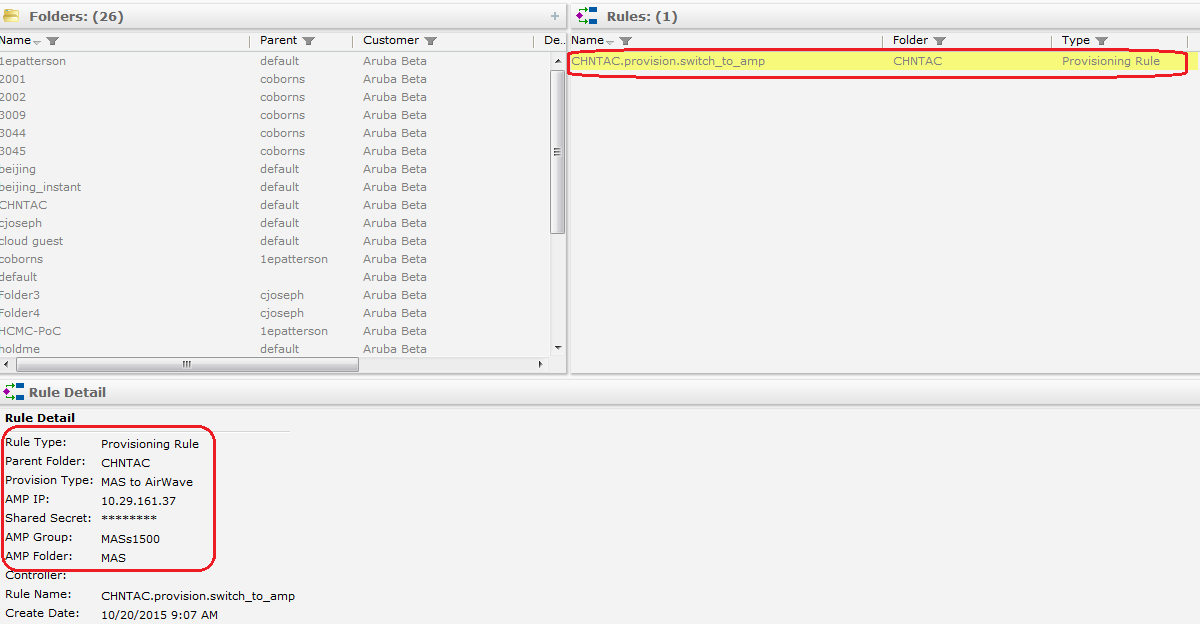 Once the device gets the provisioning rule from the Activate it will be showing up in Airwave under "New device" list.
Then we can move the device to the desired group to get the config.
Airwave screenshot:

Verification
In the activate log we could see the MAS device connecting to the Activate and Airwave.
Oct 21 02:25:17 activate[3274]: Processing activate message on the agent
Oct 21 02:25:17 activate[3274]: connecting to device.arubanetworks.com <=================== Aruba Activate
Oct 21 02:25:17 activate[3274]: SSL handshake - want connect
Oct 21 02:25:17 activate[3274]: connected, fd (10)
Oct 21 02:25:17 activate[3274]: Content Length 0
Oct 21 02:25:17 activate[3274]: Sending activate message
Oct 21 02:25:17 activate[3274]: POST /provision HTTP/1.1^M
Oct 21 02:25:17 activate[3274]: Host: device.arubanetworks.com^M
Oct 21 02:25:17 activate[3274]: Content-Length: 0^M
Oct 21 02:25:17 activate[3274]: X-Type: provision-update^M
Oct 21 02:25:17 activate[3274]: X-OEM-Tag: Aruba^M
Oct 21 02:25:17 activate[3274]: X-Mode: SWITCH^M
Oct 21 02:25:17 activate[3274]: X-Current-Version: 7.3.2.2_44718^M
Oct 21 02:25:22 activate[3274]: HTTP/1.1 200 OK^M
Oct 21 02:25:22 activate[3274]: Date: Wed, 21 Oct 2015 10:24:00 GMT^M
Oct 21 02:25:22 activate[3274]: Content-Length: 0^M
Oct 21 02:25:22 activate[3274]: Content-Type: text/plain; charset=UTF-8^M
Oct 21 02:25:22 activate[3274]: X-Activation-Key: EVF0PAKH^M
Oct 21 02:25:22 activate[3274]: X-Amp-Folder: MAS^M
Oct 21 02:25:22 activate[3274]: X-Amp-Group: MASs1500^M
Oct 21 02:25:22 activate[3274]: X-Amp-Ip: 10.29.161.37^M <======================= Airwave Server
Oct 21 02:25:22 activate[3274]: X-Controller: ^M
Oct 21 02:25:22 activate[3274]: X-Controller-Bu: ^M
Oct 21 02:25:22 activate[3274]: X-Session-Id: d18c441f-fd39-43f0-b700-539ad16757e9^M
Oct 21 02:25:22 activate[3274]: X-Shared-Secret: ****^M
Oct 21 02:25:22 activate[3274]: X-Status-Code: success^M