Article Options
Mark as New

Mark as Read

Bookmark

Subscribe

Email to a Friend
Mark as New

Bookmark

Subscribe

Email to a Friend
Overview And Setup Of VXLAN On Aruba Switches
esupport
MVP
Requirement:
VXLAN:
VXLAN is a Layer 2 encapsulation technology that substitutes the usage of VLAN numbers to label Ethernet broadcast domains with VXLAN numbers.
VXLAN supports 224 Ethernet broadcast domains or VXLAN numbers. (16,777,216)
A VXLAN number ID is referred to as VNI. There is a one-to-one relationship between an Ethernet broadcast domain and a VNI.
A single Ethernet broadcast domain can't have more than one VNI.
VXLAN requires two devices to create and terminate VXLAN tunnels. A device that can create or terminate the VXLAN tunnel is called the VXLAN Tunnel Endpoint (VTEP).
A VTEP performs these two roles:
Receive Layer 2 traffic from a source, such as a VM, in an Ethernet broadcast domain, encapsulating it within a VXLAN frame and sending it to the destination
VTEP.Receive the VXLAN frame, stripping the encapsulation to reveal the encapsulated Ethernet frame, and forwarding the frame toward the destination included in the encapsulated Ethernet frame.
VXLAN tunnel which carries the encapsulated data is called an overlay network
The IP physical network that switches and routes the tunnels that make up the overlay is called the underlay network.
Topology: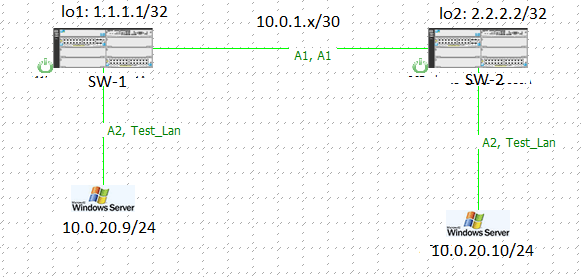 Devices Used:
2 x 5412R switches : Version - KB.16.08.0001
2 x Servers
Requirement:
The Clients connected to vlan 20 on both the switches need to communicate with each other,the switches are connected through a /30 network between them and no gateway is configured on the Servers.
The overlay network will be Vlan 20 and underlay is the vlan 1
Solution:
Server Ping results from 10.0.20.10:

Configuration:
Config steps:
Disable v2 modules
Enable VXLAN
Create a Virtual-network (VNI) and associate a vlan
Create a Vxlan tunnel and define source and destination VTEP's
Map the tunnel to a overlay network
SW-1:
no allow-v2-modules
vxlan enable
virtual-network 300 20 "lll" (vlan is 20 and VNI is 300)
interface tunnel 1
tunnel name "left"
tunnel mode vxlan
tunnel source 1.1.1.1
tunnel destination 2.2.2.2
exit
vxlan tunnel 1 overlay-vlan 20
SW-1(config)# show ip
Internet (IP) Service
IP Routing : Disabled
Default Gateway :
Default TTL : 64
Arp Age : 20
Domain Suffix :
DNS server :
| Proxy ARP
VLAN | IP Config IP Address Subnet Mask Std Local
-------------------- + ---------- --------------- --------------- ----------
DEFAULT_VLAN | Manual 10.0.1.1 255.255.255.252 No No
VLAN20 | Disabled
Loopback Interface
Loopback | IP Config IP Address Subnet Mask
------------ + ------------ --------------- ---------------
lo1 | Manual 1.1.1.1 255.255.255.255

SW-1(config)# show ip route
IP Route Entries
Destination Gateway VLAN Type Sub-Type Metric Dist.
------------------ --------------- ---- --------- ---------- ---------- -----
1.1.1.1/32 lo1 connected 1 0
2.2.2.2/32 10.0.1.2 1 static 1 1
10.0.1.0/30 DEFAULT_VLAN 1 connected 1 0
127.0.0.0/8 reject static 0 0
127.0.0.1/32 lo0 connected 1 0

SW-2:
no allow-v2-modules
vxlan enable
virtual-network 300 20 "lll"
interface tunnel 2
tunnel name "right"
tunnel mode vxlan
tunnel source 2.2.2.2
tunnel destination 1.1.1.1
exit
vxlan tunnel 2 overlay-vlan 20
SW-2(config)# show ip
Internet (IP) Service
IP Routing : Disabled
Default Gateway :
Default TTL : 64
Arp Age : 20
Domain Suffix :
DNS server :
| Proxy ARP
VLAN | IP Config IP Address Subnet Mask Std Local
-------------------- + ---------- --------------- --------------- ----------
DEFAULT_VLAN | Manual 10.0.1.2 255.255.255.252 No No
VLAN20 | Disabled
Loopback Interface
Loopback | IP Config IP Address Subnet Mask
------------ + ------------ --------------- ---------------
lo2 | Manual 2.2.2.2 255.255.255.255
SW-2(config)# show ip route
IP Route Entries
Destination Gateway VLAN Type Sub-Type Metric Dist.
------------------ --------------- ---- --------- ---------- ---------- -----
1.1.1.1/32 10.0.1.1 1 static 1 1
2.2.2.2/32 lo2 connected 1 0
10.0.1.0/30 DEFAULT_VLAN 1 connected 1 0
127.0.0.0/8 reject static 0 0
127.0.0.1/32 lo0 connected 1 0

Server 1:
Ethernet adapter ZZ. Test Network:
Connection-specific DNS Suffix . :
Link-local IPv6 Address . . . . . : fe80::8cd5:177c:48e6:ddc1%13
IPv4 Address. . . . . . . . . . . : 10.0.20.9
Subnet Mask . . . . . . . . . . . : 255.255.255.0
Default Gateway . . . . . . . . . :
Server 2:
Ethernet adapter ZZ. Test Network:
Connection-specific DNS Suffix . :
Link-local IPv6 Address . . . . . : fe80::4480:f068:e9c8:9dc%13
IPv4 Address. . . . . . . . . . . : 10.0.20.10
Subnet Mask . . . . . . . . . . . : 255.255.255.0
Default Gateway . . . . . . . . . :
Verification
SW-1 :
SW-1(config)# show vxlan
VXLAN Tunnel Information
Status : Enabled
UDP Port : 4789
SW-1(config)# show interfaces tunnel 1
Tunnel Configuration :
Tunnel : 251659490
Tunnel Name : VXLAN_Tunnel01
Tunnel Status : Enabled
Source Address : 1.1.1.1
Destination Address : 2.2.2.2
Mode : VXLAN Tunnel
TOS : -1
TTL : 64
IPv6 : n/a
MTU : 1450

Current Tunnel Status :
Tunnel State : Up
Destination Address Route : 2.2.2.2/32
Next Hop IP : 10.0.1.2
Next Hop Interface : vlan-1
Next Hop IP Link Status : Up
Source Address : 1.1.1.1
Egress Port : A1
SW-1(config)# show interfaces tunnel type vxlan statistics 251659490
Tunnel Name : VXLAN_Tunnel01
Rx Packets : 505
Tx Packets : 87973812
Rx 5 Minute Weighted Average Rate (Pkts/sec) : 0
Tx 5 Minute Weighted Average Rate (Pkts/sec) : 0

SW-2:
SW-2(config)# show vxlan
VXLAN Tunnel Information
Status : Enabled
UDP Port : 4789
SW-2(config)# show interfaces tunnel 2
Tunnel Configuration :
Tunnel : 251659490
Tunnel Name : VXLAN_Tunnel01
Tunnel Status : Enabled
Source Address : 2.2.2.2
Destination Address : 1.1.1.1
Mode : VXLAN Tunnel
TOS : -1
TTL : 64
IPv6 : n/a
MTU : 1450

Current Tunnel Status :
Tunnel State : Up
Destination Address Route : 1.1.1.1/32
Next Hop IP : 10.0.1.1
Next Hop Interface : vlan-1
Next Hop IP Link Status : Up
Source Address : 2.2.2.2
Egress Port : A1
SW-2(config)# show interfaces tunnel type vxlan statistics 251659490
Tunnel Name : VXLAN_Tunnel01
Rx Packets : 87973901
Tx Packets : 588
Rx 5 Minute Weighted Average Rate (Pkts/sec) : 0
Tx 5 Minute Weighted Average Rate (Pkts/sec) : 0
Attachments:
SW -2 config.txt
SW-1 config.txt