Article Options
Mark as New

Mark as Read

Bookmark

Subscribe

Email to a Friend
Mark as New

Bookmark

Subscribe

Email to a Friend
RADIUS Authentication For REST On Aruba switch
esupport
MVP Expert
Requirement:
RADIUS authentication for REST has been introduced in Aruba switches in 16.08. However, not all switches support this feature.
Setup used:
3810 - Running on software - KB.16.09.0001
Clearpass Server - Running on 6.7.0.101814
Solution:
On the switch the following configuration is required:
Configure a RADIUS server
Enable authentication for REST for login mode
Enable authentication for REST for enable mode
Enable REST Interface
Also, make sure that http and/or https is enabled on the switch.
On the RADIUS Server (Clearpass):
Add the switch in Devices
Create a PROFILE
Create a POLICY
Create a Service
Call the Policy in the Service Enforcement
Also make sure that the User is added in the Local User Repository or any other Authentication source that will be used.
Configuration:
Now, in order to achieve RADIUS Authentication for REST, configure the switch with the following configuration:

These are the REST specific commands that are required.
The IP address 10.13.13.12 is of the Clearpass server.
The command "rest-interface" is used to enable REST on the switch.
The rest of the configuration has to be done on the Clearpass server as follows:
1) Add the switch in the Clearpass server in Devices and use the same key as the one used on the switch in the "radius-server host " command.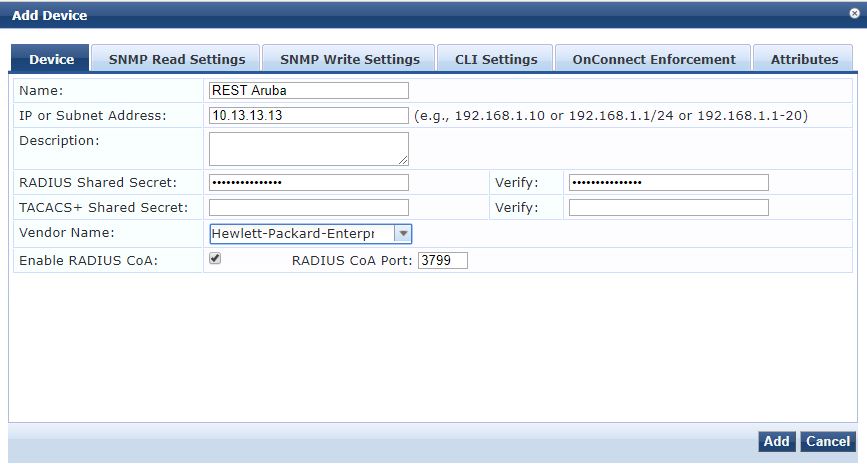 The switch IP used in this example is 10.13.13.13.
2) Create a profile :

You can name the profile as you desire.
Click on the Attributes TAB and configure the following:

3) Configure the Service as follows:

4) Under the authentication TAB select PAP and Local User Repository in the Authentication Methods and Authentication Sources respectively: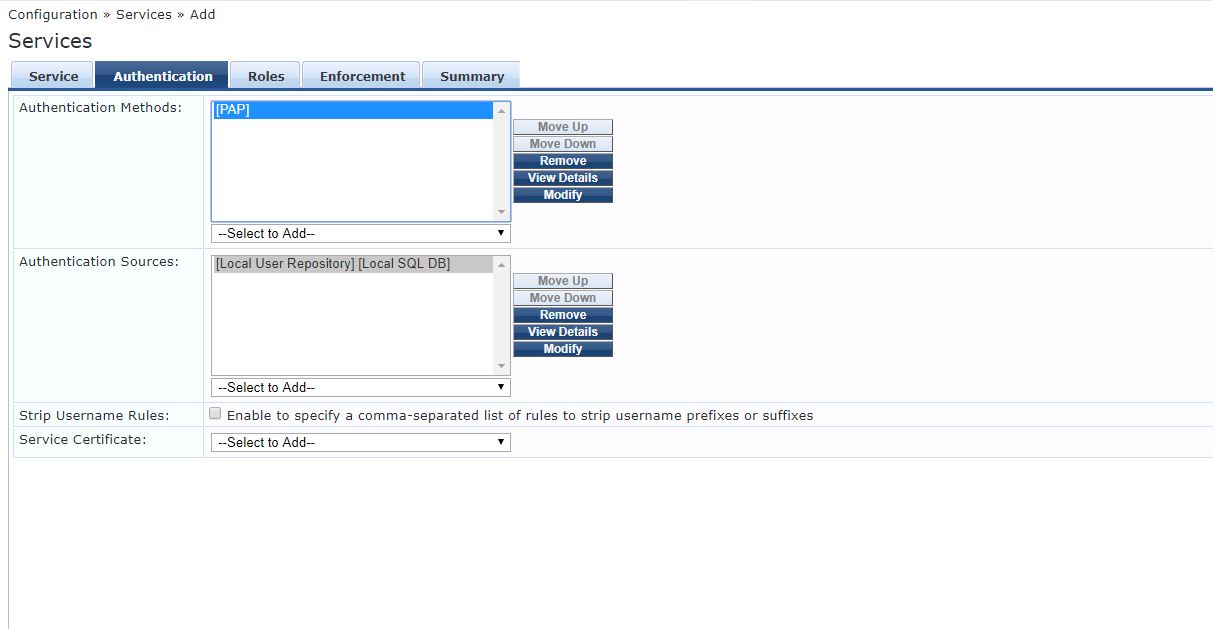 5) Finally, click on the Enforcement TAB and select the policy that defines the condition:

Verification
On the switch verify with the command:
show rest-interface
show logging -------- Very useful while troubleshooting
On the Clearpass Server check the Access Tracker once a login attempt is made.