Article Options
Mark as New

Mark as Read

Bookmark

Subscribe

Email to a Friend
Mark as New

Bookmark

Subscribe

Email to a Friend
Spanning Tree Issues Between Procurve And Comware Switch For Root Path Selection
esupport
MVP
Problem:
On AS01, root path towards the core switch (SW00) should be Trk1 for instance 2. However, the switch considers port 7 as the root path towards Core (SW00).
TOPOLOGY :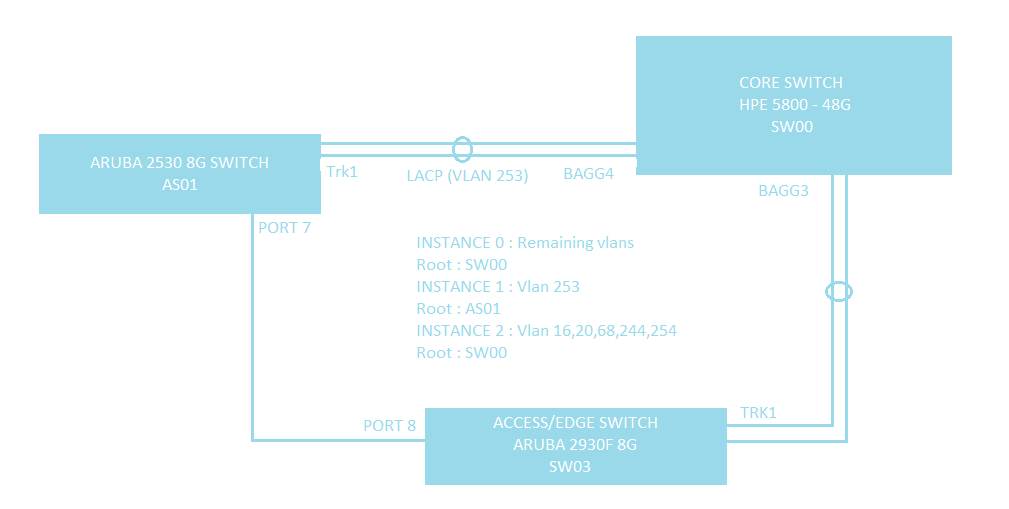 SPANNING TREE MODE :
MSTP with 3 Instances (0,1,2)
INSTANCE 0 : Remaining vlans
Root : SW00
INSTANCE 1 : Vlan 253
Root : AS01
INSTANCE 2 : Vlan 16,20,68,244,254
Root : SW00
CORE SWITCH (sw00) PORT CONFIG :
Interface bridge-aggregation 4
Vlans mapped : vlan 253
Interface bridge-aggregation 3
Vlans mapped : vlan 16,20,68,244,254
AS01 PORT CONFIG :
TRK 1 mapped to vlan 253 only
Port 7 mapped to vlan 253 only
SW03 PORT CONFIG :
Port 8 mapped to vlan 253 only
TRK1 mapped to vlan 253 only
Diagnostics:
The concept of spanning tree instance participation in ProCurve and Comware works slightly different
In Comware switches for an uplink port to be participating in spanning tree instance, not only should the vlan-to-instance mapping match but the vlans associated with the instance should also be tagged/untagged to the uplink port.
If all the vlans in a particular instance are not tagged/untagged on the uplink port of Comware switch, the uplink would not participate in STP instance
In Procurve switches, it is not necessary to map vlans to the uplink port. We only have to make sure the MST digest across all switches are the same.
Solution
In our scenario,
We have two paths from AS01 to reach SW00 (port 7 through SW03 or TRK1 directly connected link )
Considering first link , TRK1 connects to BAGG4 of SW00 which has only vlan 253 mapped to the bridge aggregation. Since Instance 2 vlans are not mapped to BAGG4, it would not participate in MSTI 2.
Considering second link, port 7 connects to port 8 of SW03. Ports on Procurve would participate in Instance 2 as in Procurve switches it is not necessary for us to have vlan-port membership. Also BAGG3 which connects to Trk1 of SW03 has Instance 2 vlans tagged/untagged to the bridge aggregation.
Hence forth, path towards root which AS01 is considering is correct as per spanning tree operation difference in Procurve and Comware.
Below output shows the as root bridge and as the path towards root.
xx-ge-as01# show spanning-tree instance 2
MST Instance Information
Instance ID : 2
Mapped VLANs : 16,20,68,244,254
Switch Priority : 8192
Topology Change Count : 5
Time Since Last Change : 7 hours
Regional Root MAC Address : c4cad9-a96d33
Regional Root Priority : 0
Regional Root Path Cost : 40000
Regional Root Port : 7
Remaining Hops : 18
Root Inconsistent Ports :
Loop Inconsistent Ports :
Designated
Port Type Cost Priority Role State Bridge
----- --------- --------- -------- ---------- ------------ --------------
1 100/1000T 20000 128 Designated Forwarding 548028-ece100
2 100/1000T 20000 128 Designated Forwarding 548028-ece100
3 100/1000T Auto 128 Disabled Disabled
4 100/1000T Auto 128 Disabled Disabled
7 100/1000T 20000 128 Root Forwarding 20677c-c67590
8 100/1000T Auto 128 Disabled Disabled
9 100/1000T Auto 128 Disabled Disabled
10 100/1000T Auto 128 Disabled Disabled
Trk1 20000 64 Designated Forwarding 548028-ece100