Article Options
Mark as New

Mark as Read

Bookmark

Subscribe

Email to a Friend
Mark as New

Bookmark

Subscribe

Email to a Friend
Bandwidth VSAs for layer 3 authentication
esupport
MVP
Q:
Bandwidth VSAs attribute is added for layer authenticated users.
A:
Starting from ArubaOS 8.2, the managed device can assign per-user or per-group bandwidth rate on Layer 3 authenticated clients. To direct the managed device to enforce bandwidth rates for specific clients after successful Captive-Portal authentication, three RADIUS Vendor-Specific Attributes named Bandwidth-VSAs are added in the RADIUS Access-Accept packet
It is supported only tunnel-forwarding mode, decrypted-tunnel- forwarding modes and wired-connected clients are supported .
Radius servers are required to response with the specific Radius Attribute to authenticate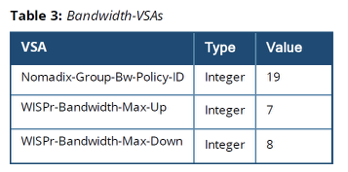 Which can be verified as below,
(LC7240) #show aaa radius-attributes | include Nomadix-Group-Bw
Nomadix-Group-Bw-Policy-ID 19 Integer Nomadix 3309
(LC7240) #show aaa radius-attributes | include WISPr-Bandwidth-Max
WISPr-Bandwidth-Max-Down 8 Integer WISPr 14122
WISPr-Bandwidth-Max-Up 7 Integer WISPr 14122
(LC7240) #
In the controller side we don't need any configuration but in the server we have to do the configuration.