Article Options
Mark as New

Mark as Read

Bookmark

Subscribe

Email to a Friend
Mark as New

Bookmark

Subscribe

Email to a Friend
Aruba Central troubleshooting tools
esupport
MVP Expert
Q:
Aruba Central troubleshooting tools
A:
The Troubleshooting menu in the Maintenance tab in the Central UI allows the administrators and the users with read-write access to run the troubleshooting or diagnostics commands directly on the devices. When a troubleshooting session begins, Central establishes a session with the devices selected for the troubleshooting operation, retrieves the output of the selected diagnostics commands, and displays the output in the UI. Central supports the troubleshooting operations at the device level, group level, and also at the All Groups level. If the user access is restricted to only certain groups within a network, Central allows the users to run the troubleshooting commands only on the devices in these groups. Similarly, the users with the administrator or read-write access to All Groups can execute the troubleshooting commands on the entire list of devices associated with a user account.
Recently, troubleshooting tools has been added to Aruba Central Web UI which allows Central Administrator to be able to ping/traceroute any destination from any IAP through the Central Web UI. The final ping/traceroute results can be also forward as an email or export from the Web UI for future reference.
Navigate to Maintenance -> Troubleshooting -> select Tools, this allows you to run commands such as Ping and Traceroute from the UI.

Final ping output from Web UI: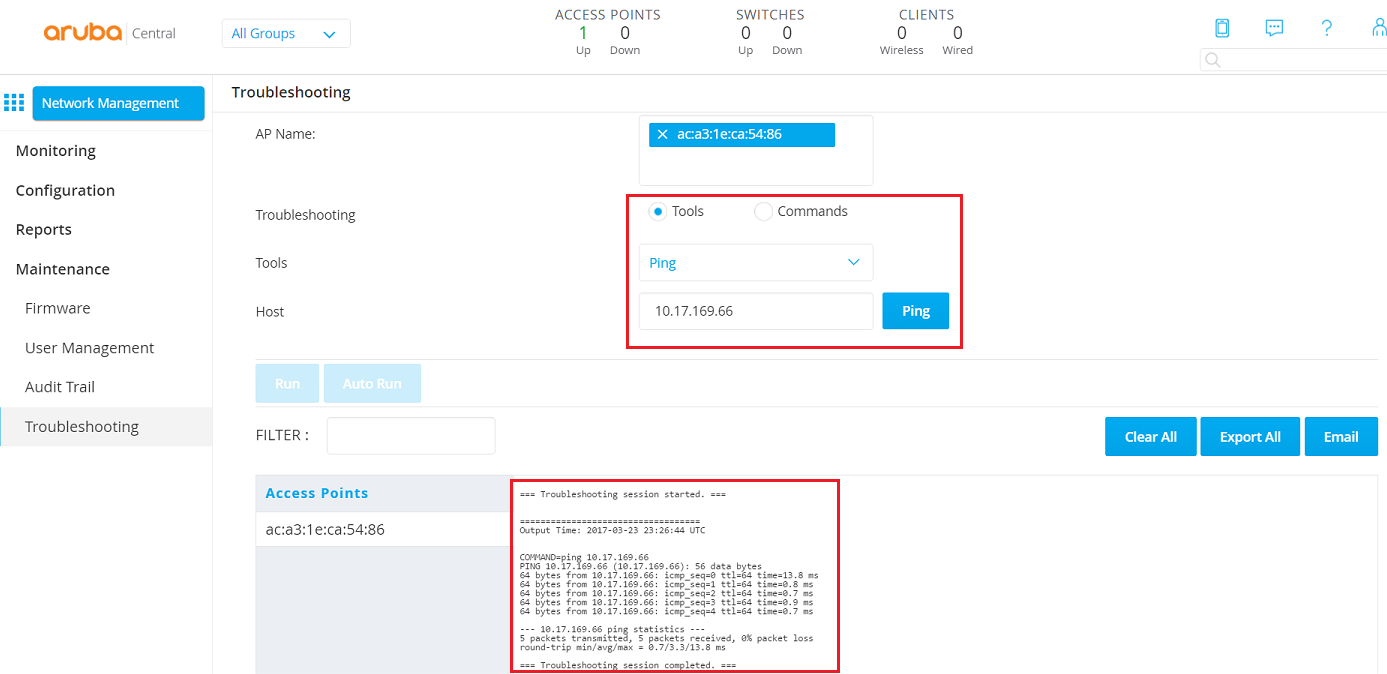 Final output can be exported or also sent as an email. By default it would choose the Central Administrator in TO. As needed, other folks can also be included in the CC.