Article Options
Mark as New

Mark as Read

Bookmark

Subscribe

Email to a Friend
Mark as New

Bookmark

Subscribe

Email to a Friend
How to do Fixed Service Support Registration
esupport
MVP
Q:
How to do Fixed Service Support Registration
A:
Registration of Fixed Service Support
The Registration is performed at CSN (Channel Services Network) Tool.
The Registration process creates the link between Hardware and the packaged support services.
When FSS is not registered, there will be no link between the Support and Customer Devices.
In case of a problem, the device will be in the status of "Base Support" or "No Support" in our system and GoTool has to be scheduled before a Service Call can be registered.
This causes additional delay when there is a need for assistance.
Login
Link to login into CSN tool - https://h30125.www3.hpe.com/hpcsn/?hpp
Login using your CSN ID.
If you do not have a Login / CSN ID, you must contact HPE Point Next / Aruba Support or HPE Account Manager.
There must be only one CSN ID per Reseller.
Before getting CSN ID, you must check within your company if anyone else already have a CSN ID.
Note: All CSN ID is linked to an Email ID. As all communication from CSN website uses this email ID, while creating a new CSN ID, Aruba advices only to use a Generic mailbox where multiple users have access to it. This ensure accessibility and continuity of the process.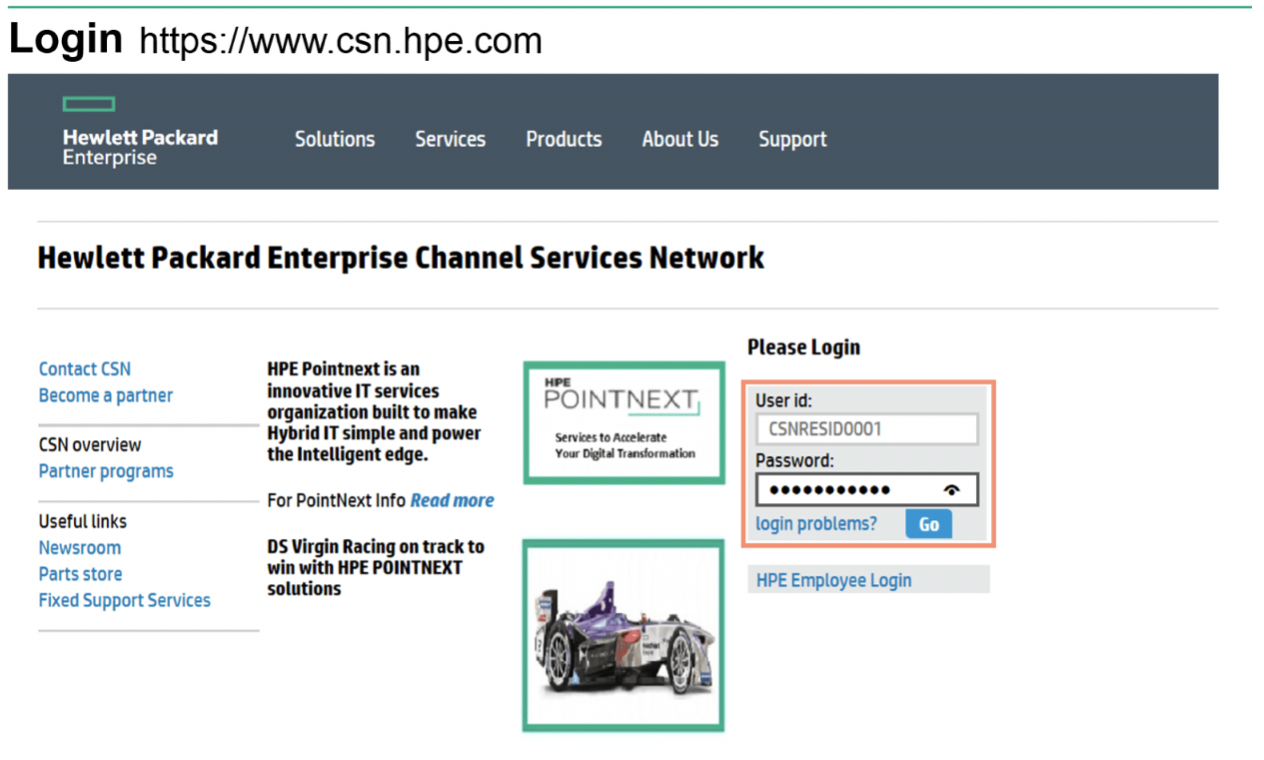 Home Page:
Once you are logged in, you will get this page where you can Register, Renew or Update the FSS.
This page is also responsible to generate Order's Detailed report.
How to generate Reports:
From the Home Page -> Click Inquiries – This will navigate to a page where you can generate multiple types of reports.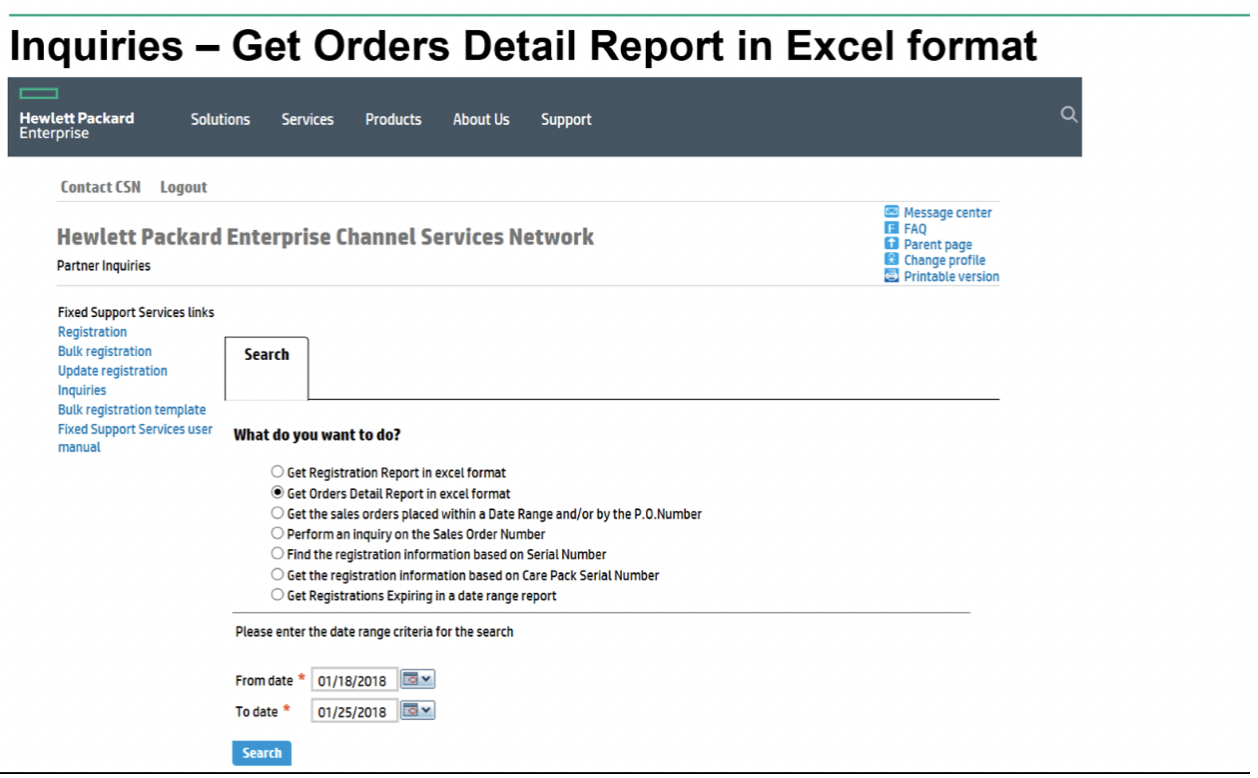 Get Registration report in Excel – This will generate the information of the list of Orders which you already registered.
Get Orders Detail Report in Excel Format – This will have the information of all Orders.
If the Order is not assigned to your CSN user ID, it will not be visible in Order Report. Hence it is very important that you confirm with the distributor that the orders are assigned correctly to your CSN user ID.
It is important to review all orders' status on regular basis. HPE terms and conditions states that, FSS must be registered within 10 days of an Order.
Note: You can use CSN order numbers to find the orders. CSN Order numbers starts with AME, EME or APE.
Example of a Report:

Registration:
In Home page, Navigate to Care Pack Registration link or Registration hyper link.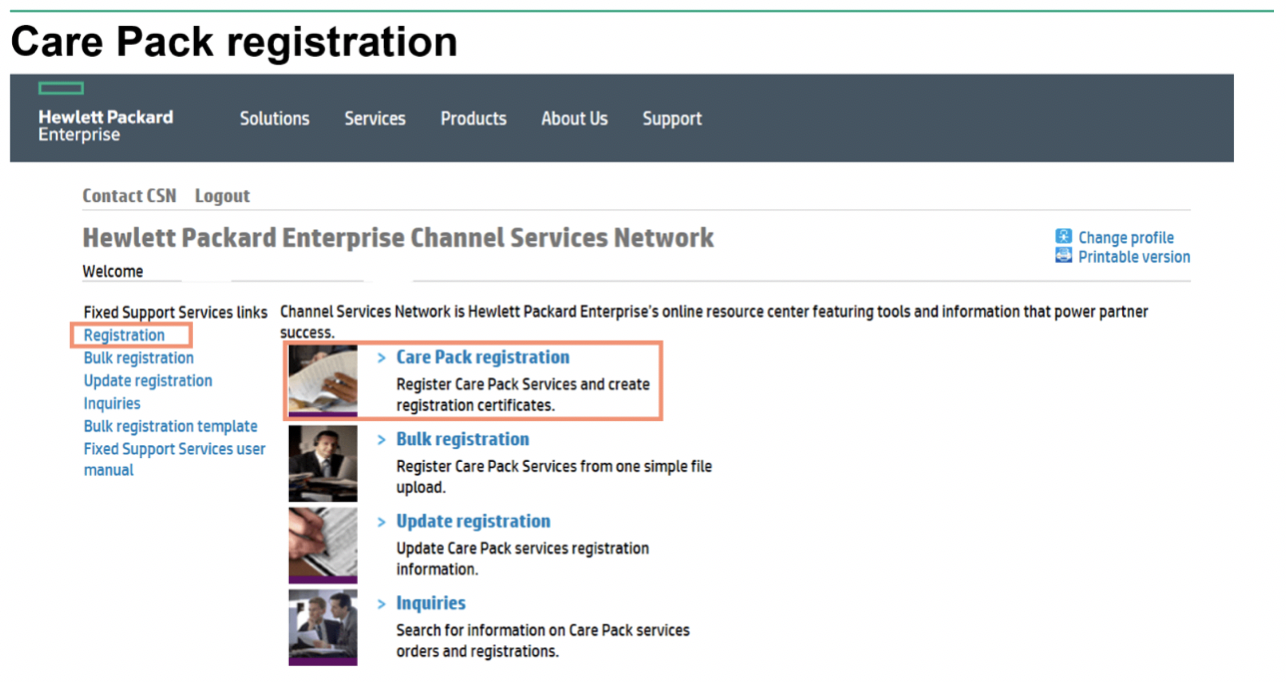 Once you click on Registration, it navigates you to Registration page where we need to enter CSN order number which starts with AME / EME / APE or the PO number.
But Aruba recommends adding using CSN order number.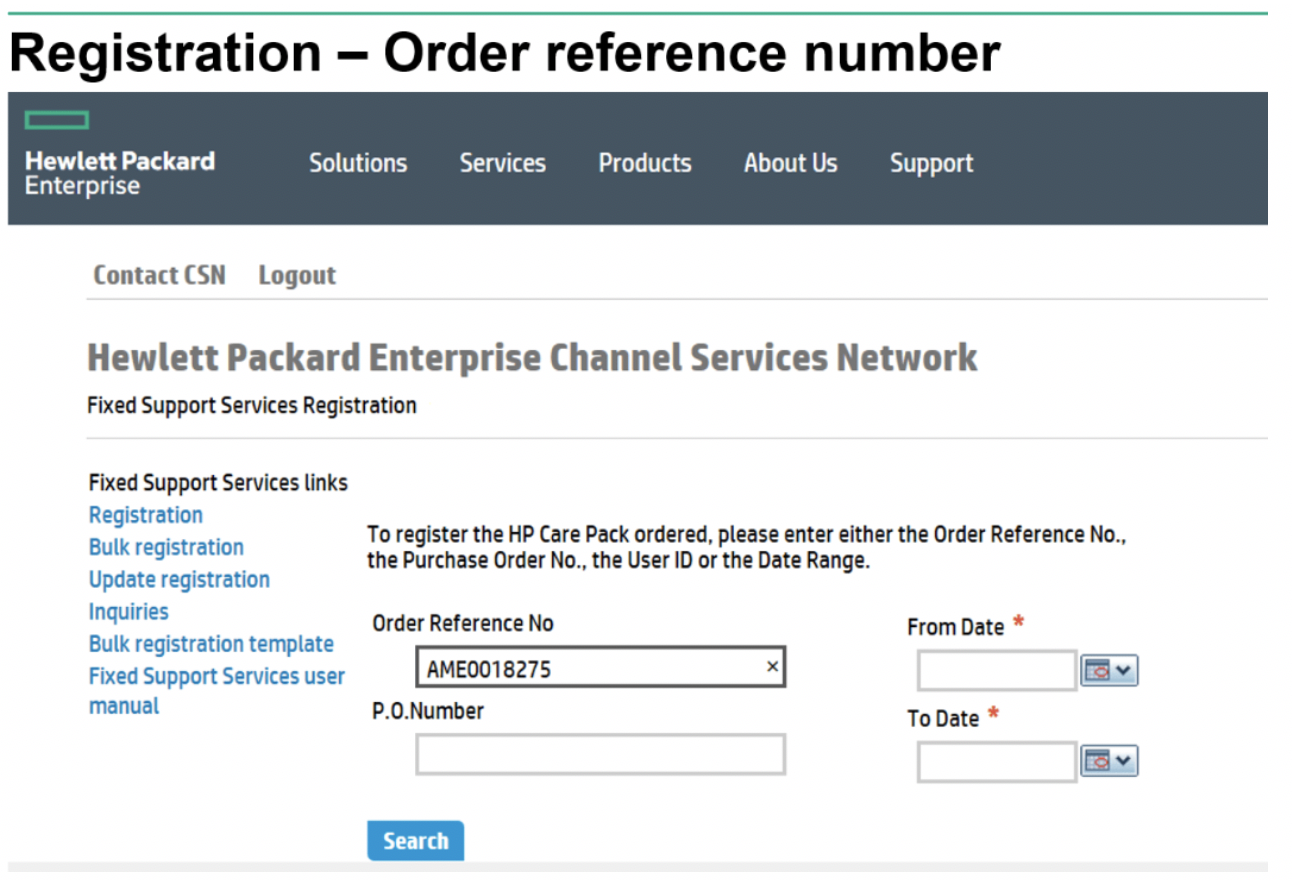 After Locating the correct order number, click on the order's Hyperlink.

Once we click the hyper link of the order, it redirects to the next page.
On the first tab we can find the Order number and Distributor name of that order.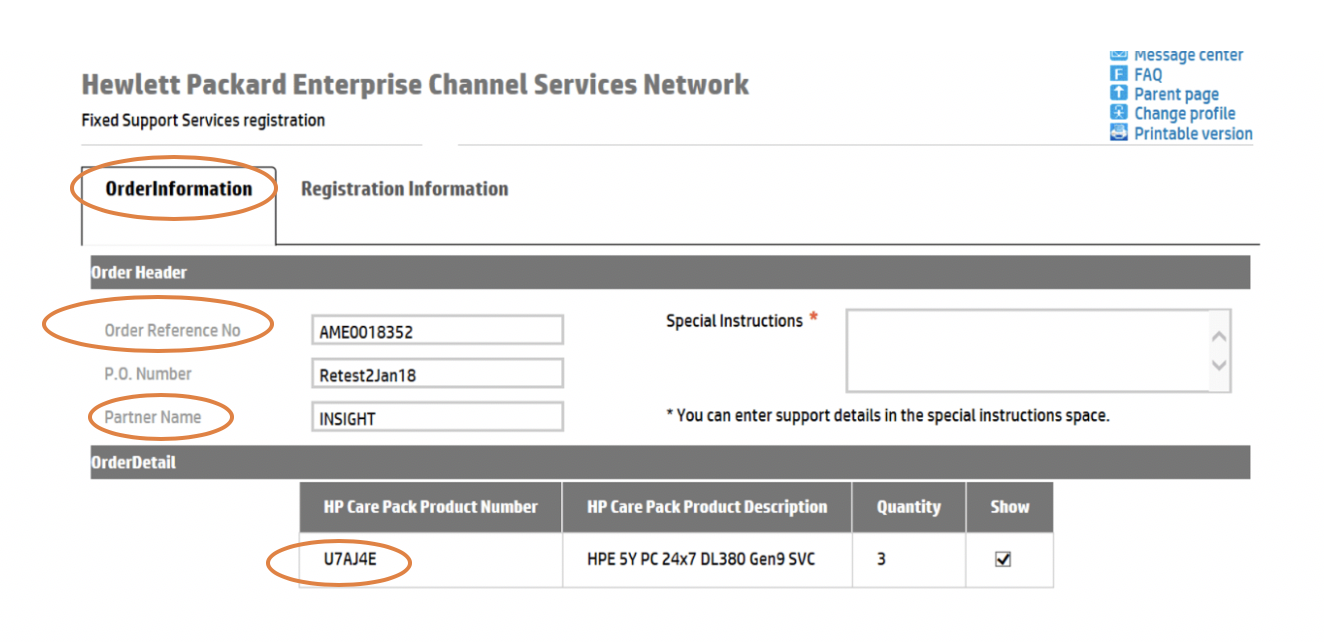 There will be a second Tab for Registration Information where we enter the contact information and all other requried details.
The info you provide here must directly relate to where the device is located.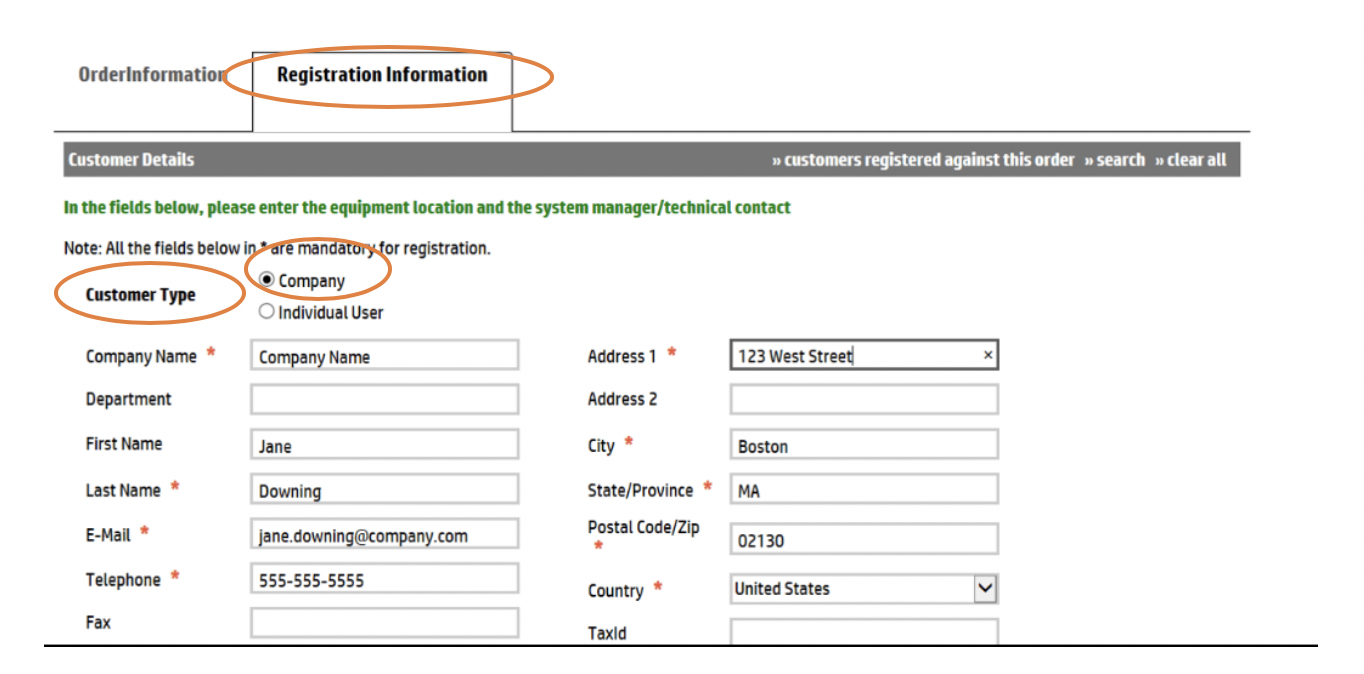 In the next page, tool establishes the link between FSS and the Hardware.
Here, Serial number, Product number and date of purchase must be entered.

Use the scroll bar to enter the Preferred Service Provider (PSP) flag.
By default it will be HPE delivered service.
You can click "preview" button to preview the Registration document and "back" button to make any changes. Once everything is corrected click "Confirm" to complete the registration.
After the above step, the Registration of FSS is now complete. The certificate will be generated, and you can email it to the Customer.
The certificates must be forwarded to the End Customer as this is their Proof of Purchase.
Update Registration:
Navigate to Home page - > Click "Update registration".
This is done if there are any changes in customer details.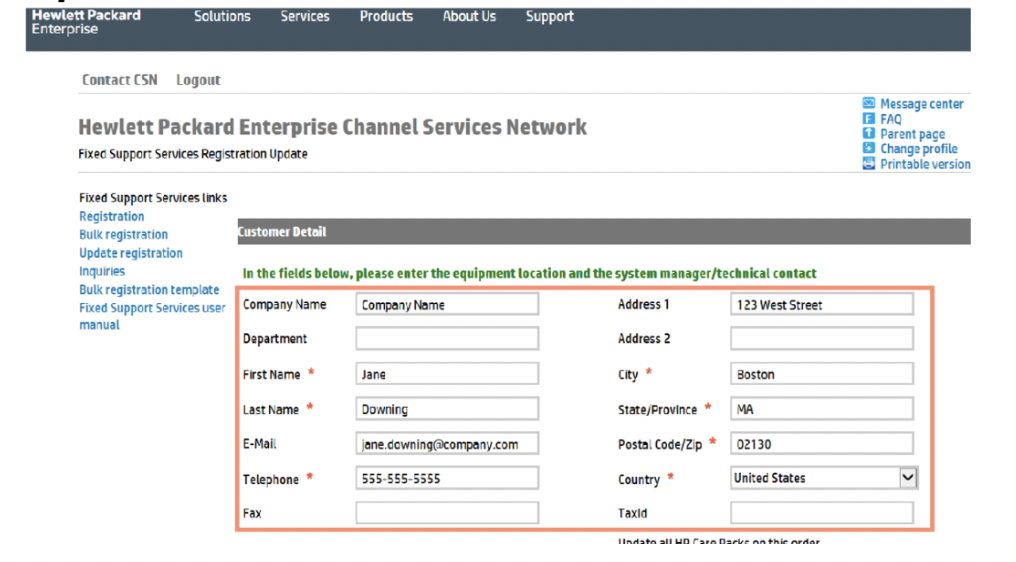 Renewal of Registration:
To renew your registration, To know the list of Expiry Dates, Navigate to Home page -> Inquiries.
Select "Get Registration Expiring in a date range report"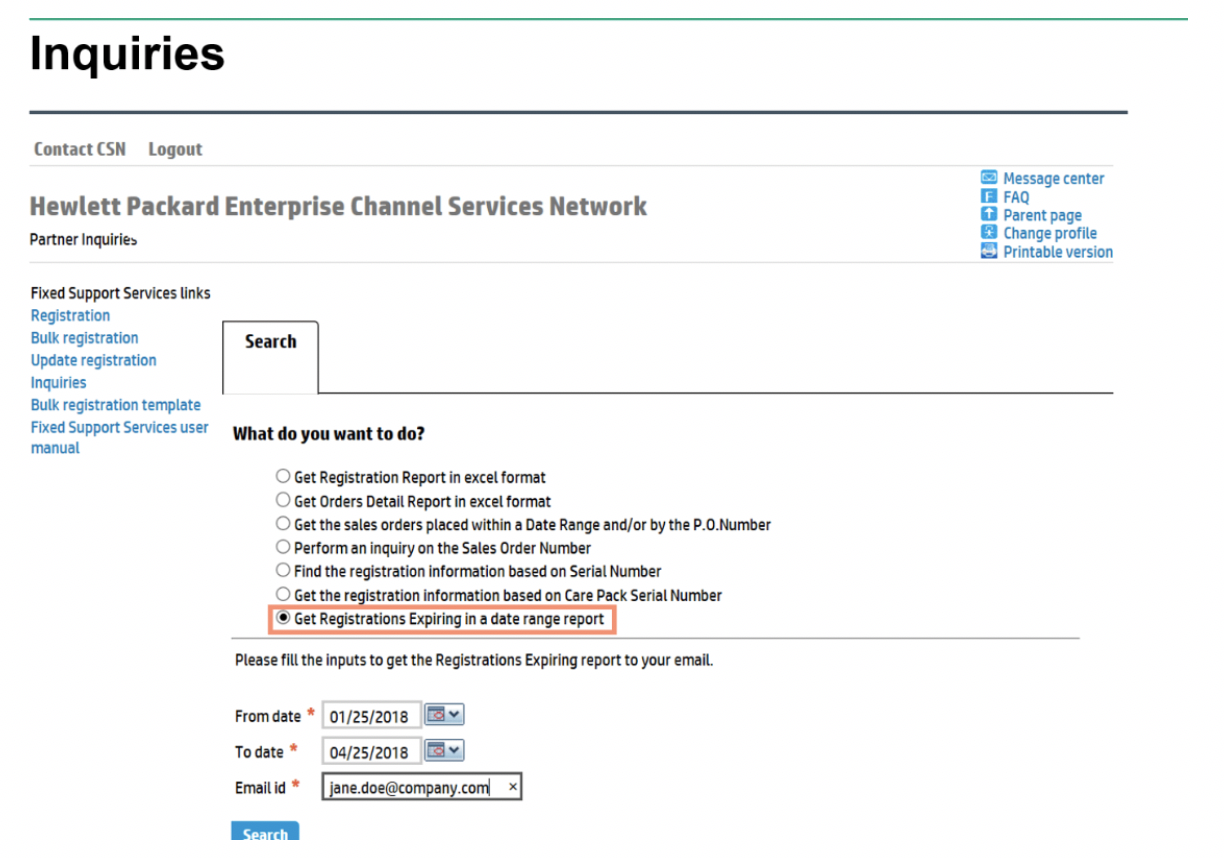 The expiring orders report will be sent as Zip file to your email.
You can renew the expiration 90 days before or within 30 days after the date of Expiration.