Article Options
Mark as New

Mark as Read

Bookmark

Subscribe

Email to a Friend
Mark as New

Bookmark

Subscribe

Email to a Friend
ArubaOS-Switch – Error Message 05204 dca: Failed to apply user role Reported in the Log File
esupport
MVP
Problem:
The following error message is being reported in the log file.
W 04/09/20 13:30:18 05204 dca: Failed to apply user role to 8021X client
000C2921E66B on port 18: user role is invalid.
Diagnostics:
The Radius Access-Accept message contains the incorrect VSA Aruba-CPPM-Role. For local download user-roles, the VSA should be HPE-CPPM-Role.
Internet Protocol Version 4, Src: 10.0.106.101, Dst: 10.0.106.1
User Datagram Protocol, Src Port: 1812, Dst Port: 1812
RADIUS Protocol
Code: Access-Accept (2)
Packet identifier: 0xa5 (165)
Length: 270
Authenticator: e553831ee70c807e75dd6ace158fc7dd
Attribute Value Pairs
AVP: t=Vendor-Specific(26) l=39 vnd=Aruba Networks Inc(14823)
Type: 26
Length: 39
Vendor ID: Aruba Networks Inc (14823)
VSA: t=Aruba-CPPM-Role(23) l=33 val=Test__Dyn_SW___User_Role-3064-1
AVP: t=Vendor-Specific(26) l=58 vnd=Microsoft(311)
AVP: t=Vendor-Specific(26) l=58 vnd=Microsoft(311)
AVP: t=EAP-Message(79) l=6 Last Segment[1]
AVP: t=Message-Authenticator(80) l=18 val=6ee388415f4c459e39053d774852e72f
AVP: t=User-Name(1) l=13 val=Support-Mgr
AVP: t=Class(25) l=58 val=63586e6bf3164af28ab28d25036691adce0b000000000000
Solution
Recreate the Enforcement Policy selecting the product ArubaOS-Switch.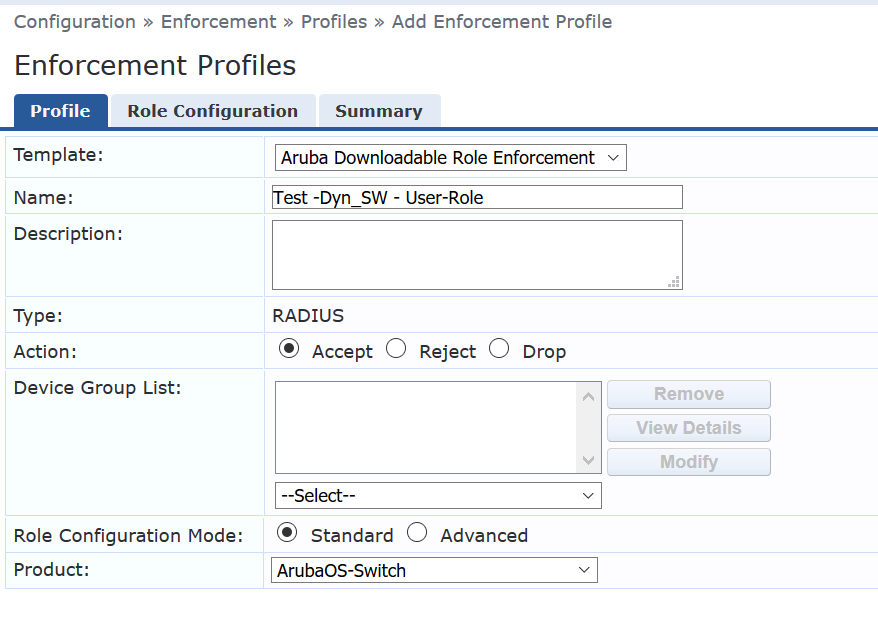 Attachments:
Enforcement Policy Screenshot.png